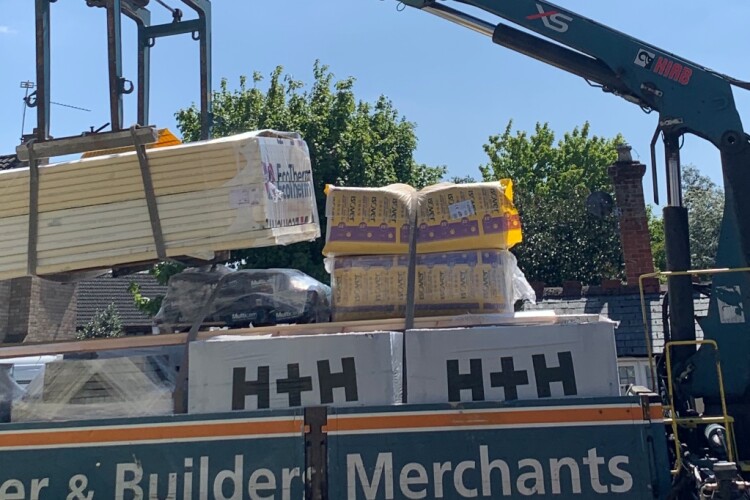 The headline seasonally adjusted IHS Markit/CIPS UK Construction PMI Total Activity Index posted 54.3 in December 2021, to remain healthily above the crucial 50.0 no-change threshold.
However, this was down from 55.5 in November and signalled the weakest rate of expansion for three months. Some survey respondents noted that tighter pandemic restrictions and rising Covid-19 cases had acted as a brake on recovery, especially in the commercial sector.
More positively, the number of construction firms reporting supplier delays dropped from 47% in November to 34% in December. Meanwhile, around 5% of the survey panel reported shorter lead times among vendors (up from 4%). This indicates the least marked downturn in supplier performance since November 2020. And the easing of supply shortages contributed to the slowest rate of input price inflation for nine months, the survey authors said.
Residential construction activity was the only category to gain momentum in December, scoring 55.3 on the index. Commercial building lost its position as the best-performing segment, with the recovery easing to its lowest since September (at 53.6). Meanwhile, civil engineering activity decreased slightly at the end of 2021 (at 49.1), ending a nine-month run of expansion.
Customer demand was relatively resilient in December, despite some reports citing delayed decision-making due to the Omicron variant. In fact, the latest rise in overall new order volumes was the strongest since August. Higher levels of new work have now been recorded for 19 consecutive months.
Higher fuel, energy and raw material prices continued to push up average cost burdens across the construction sector in December but the overall rate of inflation eased for the fourth month running, dipping to its lowest since last March.
An improved alignment between demand and supply helped to soften inflationary pressures at the end of 2021, the survey found. Purchasing activity increased at the slowest pace for three months, while supplier lead times lengthened to the least marked extent since November 2020. Where longer wait times were reported, this was mostly linked to international shipping delays and shortages of haulage drivers.
Looking ahead, 51% of the survey panel forecast a rise in business activity during 2022, while only 9% predict a decline. This degree of optimism was the joint-lowest reported since January 2021.
Tim Moore, director at IHS Markit, which compiles the survey, said: "UK construction companies ended last year on a slightly weaker footing as renewed pandemic restrictions held back the recovery, especially in commercial work and civil engineering. Some firms commented on disruption from rising Covid-19 cases, while others noted a lack of new work to sustain the rapid growth rates seen earlier in 2021.
"The worst phase of supplier delays seems to have passed as the availability of construction products and materials continued to turn a corner in December. While suppliers to the construction sector have caught up on backlogged work and boosted capacity, there were still widespread reports citing unresolved transportation issues and driver shortages.
"Input cost inflation moved down another notch in December, helped by the alleviation of some supply chain pressures. The latest rise in purchasing prices was far slower than the 24-year peak seen last June."
Chartered Institute of Procurement & Supply director Duncan Brock  said: "Though the overall index moved down slightly in December there was light at the end of the tunnel for builders in terms of the strongest order numbers since August, reduced pressure on business costs and some improved delivery times for essential materials.

"Residential building has powered on every month since June 2020 and was the best performing category in the last month of 2021. Commercial building struggled to gain a stronger footing in a weakened UK economy and civil engineering activity fell back into contraction.
"Though supply constraints were still hiking up prices, inflation was the lowest since March as materials production carried on apace reducing supply restrictions. It was shipping delays and haulage shortages that remained the significant gripes in the industry as over a third of
supply chain managers faced longer wait times. Though this was an improvement on the previous month and the best since November 2020, it was still a factor affecting builders' forecasts for 2022 as business optimism fell to the joint-lowest for almost a year."
Joe Sullivan, partner at MHA, a network of independent accountancy firms, said: "The availability of labour is now the number one issue within the UK construction sector, with wages continuing to rise. Staff mobility is high as people look for the best pay packets, causing further disruption. In addition, the spread of the Covid-19 Omicron variant has inhibited progress on building sites, dampening output and making planning even more difficult.
"However, despite these challenges, confidence in the construction sector is still quite strong. There are signs that the supply chain crisis is easing. Firms have noticed small improvements in the availability of supplies and the rate of material price increases may have peaked. Although certain decisions may be deferred until the Omicron variant abates, all indications are that plenty of work is available as we begin 2022.
"The recent 0.15% increase in the Bank of England base rate is unlikely to disturb the residential housing market, as strong demand persists, and most homeowners have fixed rate mortgages. It is the start of an attempt to curb inflation, but not an event to cause a concern to growth at present."
Gareth Belsham, director of surveyors Naismiths, commented: "Despite the slowing headline rate of growth, the PMI's latest snapshot of the construction industry is mostly rosy. Even with the disruption caused by the Omicron variant, business sentiment remains strong – with half of construction firms predicting further increases in demand during 2022 – and inflationary pressure is easing.
"Several of the supply bottlenecks that emerged during the boom months of 2021 – in which the demand for materials far outstripped supply – are finally beginning to clear as manufacturers step up production.
"While transport niggles mean the wait times for key materials are still long, they are no longer getting any worse. In other ways too, December saw a return to form for construction – with housebuilding reclaiming its crown as the best-performing subsector of the industry.
"After a rollercoaster year for construction, the supply chain has once again earned its stripes – responding to soaring demand with an improved supply of both materials and labour that's enabling contractors to power through the work that continues to come in.
"The industry begins 2022 with a spring in its step and solid order books, with December seeing the number of new orders recovering to its best level since August."
Got a story? Email news@theconstructionindex.co.uk