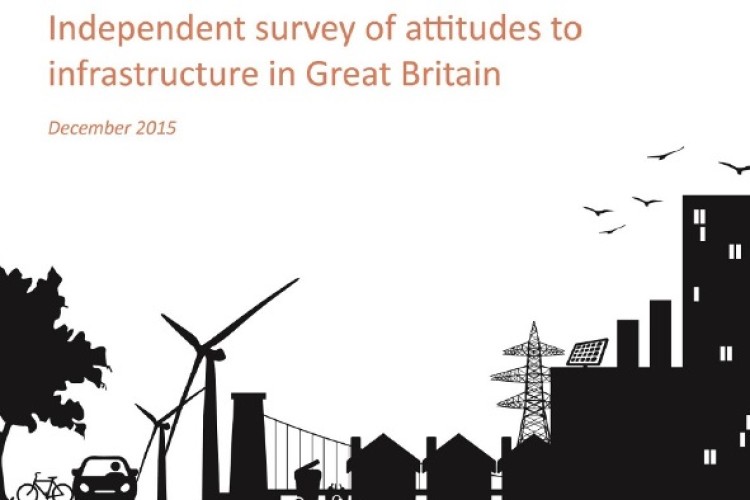 The research into public attitudes to infrastructure indicates that most people feel that there is a lack of democracy, with developers and politicians riding roughshod over the wishes of local residents. They want infrastructure to be improved (or 85% do) but also want more of a say.
The Independent survey of attitudes to infrastructure in Great Britain 2015 is published by Copper Consultancy and Peter Brett Associates. The research was carried out by Icaro, based on sample survey of 2,000 people and follow-up focus groups.
When asked what would increase confidence in the infrastructure sector, 41% said they wanted more community engagement but only 24% thought that more input from technical experts would be a good thing. "There is negligible support for engaging and consulting less," the report says.
The report authors says that renewable energy and building more homes emerged as  the British public's top two national infrastructure priorities for investment, cited by 45% and 39%, respectively. These priorities are followed by recycling and waste processing facilities (32%), railways (31%), flood defences (30%) and motorways/A roads (28%).
The launch of the report at the Institution of Civil Engineers was attended by Lord Adonis, chairman of the newly created National Infrastructure Commission (NIC), and ICE president John Armitt, an NIC commissioner.

The report authors conclude that one of the lessons from their research is that there is a need for more' leadership on infrastructure' and a more 'joined up approach'.
Lord Adonis said:  "I will ensure that the commission places the needs and views of the UK public at the heart of a long-term strategy and responds to the clear demand for a more strategic two-way conversation. It is now up to us all to take the findings of this report forward and build the broad coalition of support we need to secure the projects of the future."
Sir John Armitt said: "Public interest in infrastructure is as much driven by fear of disrupted lives as it is by a promise of greater convenience, speed or improved quality of life. The challenge for us all – ICE, government and the NIC alike - is to open up the debate and address these fears. Our ability to explain – in plain language - what we are trying to achieve and why, to be prepared to consider alternative solutions and to put ourselves in the public's shoes is absolutely vital if we are to gain sufficient political and public support, without which important projects simply cannot proceed."
The full survey, Independent survey of attitudes to infrastructure in Great Britain 2015, can be read in pdf format by clicking/tapping here.
Got a story? Email news@theconstructionindex.co.uk