RICS' quarterly surveys have indicated moderate but steady growth since early 2016 and this now continues into 2018.
The Q1 2018 RICS Construction & Infrastructure Market Survey found a net balance of 23% of surveyors reporting their workloads to have risen in the first three months of the year.
While 63% of respondents noted that weather conditions had impacted on activity, the week-long snowstorm in February was not enough to slow the pace of growth in a sector already facing limited spare capacity.
The findings were broadly positive across all sub-sectors with both new work and repair & maintenance (R&M) activity rising steadily. Private housing reported the strongest rise in workloads with 36% more respondents citing an increase rather than a decrease (compared to 27% in the previous quarter) – the most positive since the beginning of 2016.
Growth in activity across the private commercial and industrial categories was broadly unchanged and with net balances of 19% and 16%, respectively.
In infrastructure, 21% more contributors reported a rise rather than a fall in workloads. Nationally, respondents expect the rail and energy categories to post the most significant increases in construction output over the coming 12 months.
A short supply of skilled workers remains an obstacle for many businesses, particularly with regard to professional services such as quantity surveying. 60% of surveyors quizzed cited it as an impediment to growth. The proportion of respondents reporting insufficient availability of quantity surveyors was the highest in 10 years. Among the trades, bricklayers remain the hardest to source.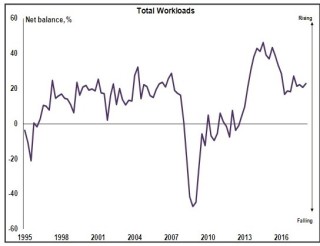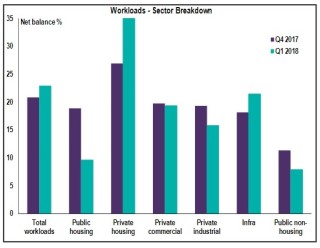 Got a story? Email news@theconstructionindex.co.uk