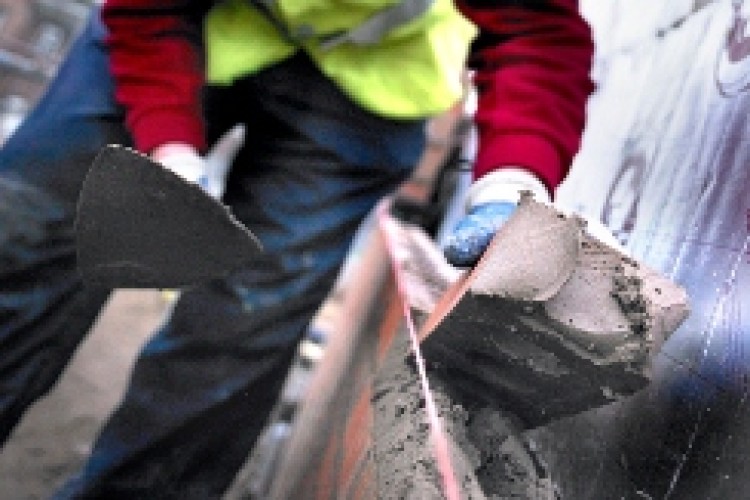 The latest construction market survey form the Royal Institution of Chartered Surveyors found that 51% of surveyors say skills shortages are curtailing activity and 58% cited materials shortages as an impediment to growth. A year ago these figures were just 7% and 5% respectively.
Some 54% of firms have had difficulties recruiting quantity surveyors and 59% have struggled to find bricklayers. This compares to 19% and 7% who were noticing shortages in these roles last year.
Surveyors have also noticed changes in the behaviour of contractors. Marc Menear from the Bristol office of Faithful+Gould said: "Contractors appear to be coming more selective over which projects they tender for."
Jonathan Park of Harrogate-based Appleyard & Trew commented: "Contractors are at capacity on enquiries and struggling to submit tenders with periods set."
Anthony Millward of Allan Reynolds Partnership in Wolverhampton said: "Shortage of bricks and bricklayers are a problem. As contractors are getting busier we are finding their management resources can't cope. This is impacting on preplanning and seriously affecting progress on site."
The Q2 2014 RICS construction market survey shows a continuing improvement in activity across all areas of the UK, with the private sector leading the way. The headline national workloads net balance, which captures the change relative to the previous quarter, softened only marginally from Q1's record high of 43 to stand at 41 for Q2.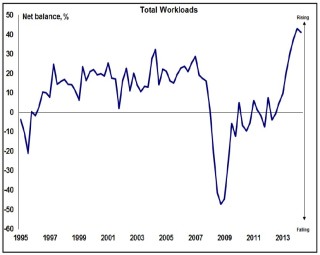 The private housing, commercial and industrial sectors are driving this growth in workloads with the individual balances for each of these sectors also moderating only slightly from the series high values recorded in Q1.
The private housing sector has been the main driver of the recent growth in the official construction output data and the continued strength of the RICS private housing workloads series, which recorded a value of 41 in Q2, shows that momentum in this sector remains strong.
The net balance of private commercial workloads came in at 51 in Q2, from Q1's series high value of 55, and as with the private housing sector, workloads grew robustly across all areas of the UK that we monitor. In the industrial sector, the workloads net balance recorded a value of 38 in Q2, down slightly from Q1's reading of 40.
Workloads grew strongly across all broad regional blocks with the Midlands region in particular seeing workloads rise at a record pace. Scotland and Northern Ireland have generally experienced more moderate growth in activity than the other areas of the UK over the last year but workloads have, nonetheless, been consistently rising, RICS said.
Got a story? Email news@theconstructionindex.co.uk