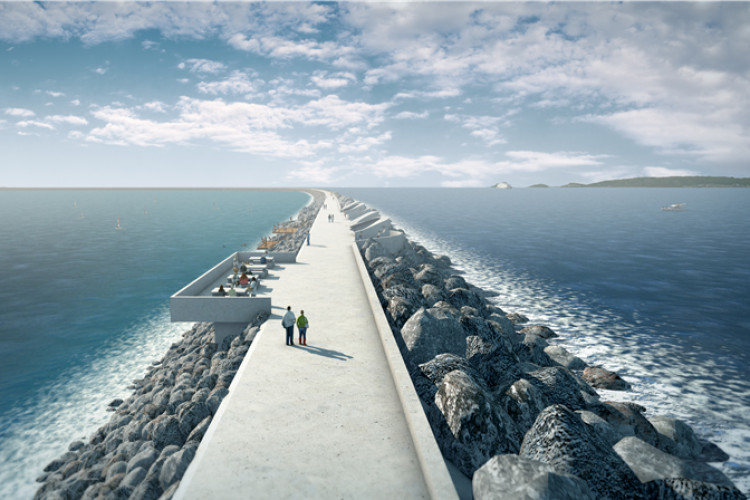 Plans for the construction of an energy-generating tidal lagoon in Swansea Bay were approved in June 2015. Since then, the developer Tidal Lagoon Power Ltd and the Department of Energy & Climate Change (DECC) have been negotiating over the fixed price at which the energy will be sold – the so-called Contract for Difference (CFD), which is effectively state aid. Only this will establish whether the tidal lagoon project at Swansea Bay is affordable.
The project involves the construction of a 9.5km-long sea wall around Swansea Bay to create a lagoon in the Severn Estuary. Turbines would harness the movement of the tide to capture enough renewable energy to power more than 120,000 homes for 120 years, the developers say.
Construction contractors on standby include China Harbour Engineering Company (CHEC), which is preferred bidder for the £300m contract to build the six-mile lagoon wall in Swansea Bay, and Laing O'Rourke,  which has been chosen for the £200m contract to build the 410-metre turbine house and sluice gate structure.
Tidal Lagoon Power intends the Swansea scheme to be a pilot for larger tidal energy lagoons that it is planning at Cardiff, Newport, West Cumbria, Colwyn Bay and Bridgwater Bay. Where the Swansea pilot would have a 320 MW capacity, the bigger ones would be between 1,800MW and 2,800MW, giving an annual output of 4 TWh to 6 TWh.
However, after initially embracing enterprise and the promise of green energy, ministers have got cold feet about the affordability.
They have now decided to defer making any decision on the Swansea project – despite it already being in the national infrastructure plan, rendering that list practically meaningless. Instead they have announced "an independent review into the feasibility and practicality of tidal lagoon energy in the UK".
There is a dishonourable history of independent reviews being adopted by ministers to defer expensive and/or politically difficult decisions, in the hope that the next person in the job will have to carry the can. Airport capacity in the southeast provides a compelling recent example.
A statement from the DECC said that while it recognises the potential of tidal lagoons to provide clean and secure energy, doubts about value for money remain.
Energy minister Lord Bourne said: "Tidal Lagoons on this scale are an exciting, but as yet an untested technology. I want to better understand whether tidal lagoons can be cost effective, and what their impact on bills will be – both today and in the longer term.
"This review will help give us that clarity so we can determine what role tidal lagoons could have as part of our plans to provide secure, clean and affordable energy for families and businesses across the country."
The DECC statement said that the review would begin this spring. It did not say when it would complete.
Tidal Lagoon Power chief executive Mark Shorrock refused to take the news negatively. He said: "This is a huge step from the UK government and a clear signal that it sees potential advantage for the UK energy consumer in very long-dated tidal energy infrastructure assets.

"There is vast potential for tidal lagoon power to provide cheap long-term renewable energy at scale and to be taken formally into national policy. We welcome the opportunity to put the case for a major programme of cost-effective power. This is a home-grown source of power, the natural way to power our nation. We have built a supply chain which puts UK companies at the forefront of a new world-leading technology."
However, he was concerned about the continuing delay. "It is imperative that we conclude our structuring and commercial negotiation with government within the next six weeks. This is entirely possible; the review should not impact the finalisation of our commercial discussions. To unlock the potential of tidal lagoon power, we need investment in a demonstration project that will grow the supply chain and build investor confidence that an exceptionally long term project can go forward in today's UK electricity market.
"Swansea Bay Tidal Lagoon is an appropriately small pilot project that gives rise to large scale projects. Investing in this project could add as little as 10p to householder's bills. The first large scale lagoon to employ its blueprint could take £5 off householder's bills.
"The project planned for Swansea Bay is ready to go now. We have built a team, secured planning permission, secured equity sponsors, prepared a delivery team and a supply chain. We have received overwhelming support for this project locally, nationally and internationally. If tidal lagoon power at scale is to be a real option for the longer term, we need to start work on Swansea Bay Tidal Lagoon now. Otherwise the opportunity will be lost and the review will be all for nothing.
"We want to give birth to a tidal range industry. We want to return steel workers into jobs. We want to make our own turbines and generators here in the UK, we want to bestow a legacy on Great Britain from Wales of 120 year life power. But none of this will be possible if we don't start now.
"A welcome review should not be a substitute for action. There is a serious and growing gap of electricity generation capacity. We need 16 new large scale power stations. The cheapest new power stations will be tidal lagoons, roof-top solar power and gas fired power stations. We need all three and quickly. And when the nuclear stations are ready, we will probably need them too, but their timescales are more uncertain."
Mr Shorrock insisted his project was affordable. "We have made a value-for-money proposition to government. There is no reason not to press on with Swansea Bay Tidal Lagoon negotiations. Recognising the extremely long asset life of a tidal lagoon enables the overall financing costs to be significantly reduced.
"The world-first tidal lagoon that carries on its shoulders the launch of a global industry now requires a lower level of subsidy support than any offshore wind farm ever built in the UK.
"We have proposed an equivalent CfD strike price for the 320MW Swansea Bay Tidal Lagoon below that of offshore wind. Our structure has a subsidy that reduces over time, meaning that for around half of the proposed 90-year contract, the lagoon pays money to government."
He continued: "By linking Swansea Bay Tidal Lagoon to the successful delivery of a second, full-scale lagoon, this approach further reduces the required and proposed equivalent CfD strike price of Swansea Bay to under £100/MWh, comparable to the Hinkley C nuclear power station.
"Application of these bespoke support structures to the Cardiff Tidal Lagoon, a 2,700MW capacity project, the equivalent CfD strike price requirement is £68.30/MWh. It is excellent to have an independent review to substantiate how tidal lagoons can bring down electricity bills immediately after demonstration stage while providing Victorian-style infrastructure legacy.
"Our company's vision is to harness the tides to generate our power, and to establish a new global industry in the UK. Today's review launch confirms a strong interest from government in this vision."
Got a story? Email news@theconstructionindex.co.uk