TBMs Maria and Isabella are at work on the AU$8.3bn Sydney Metro Northwest project.
Maria, and her sister Isabelle before her, only stuck the top 3m of their cutter-heads out – then kept on tunnelling through the Cheltenham site – instead of arriving 'face first' and breaking through a wall of rock.
The brief visits to the surface were needed as the Cheltenham site will be used for fresh air tunnel ventilation and as an emergency access point to the tunnels below when metro trains start operating in 2019.
In the past seven months, Maria has dug more than 4km and more than 20km of tunnelling is now complete, equating to two-thirds of the 30km involved in building Australia's longest railway tunnels.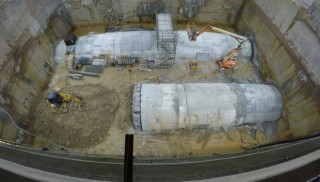 Got a story? Email news@theconstructionindex.co.uk