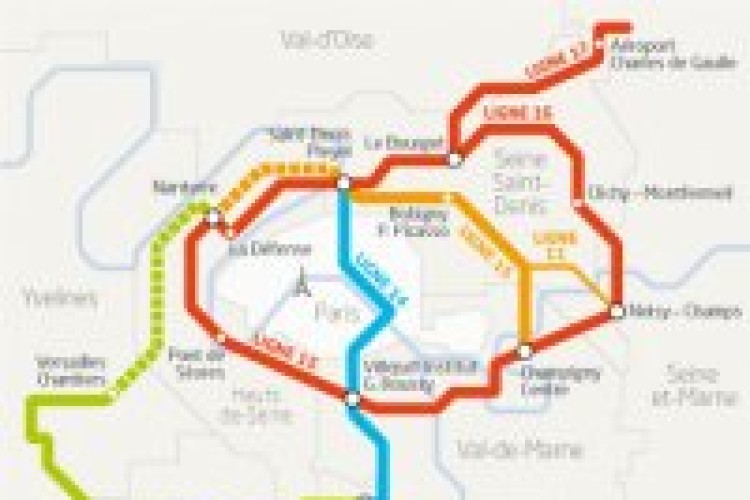 Systra won the contract for infrastructure project management for the south-west section of Line 15 between Noisy-Champs- Villejuif Louis Aragon. The joint-venture managed by Systra also includes architects ANMA Agence Nicolas Michelin Associés, Agence Richez Associés, Agence Valode and Pistre Architectes and Atelier d'Architecture King Kong. The 21km section includes eight stations and Systra will be responsible for all the design work on this section and for supervising construction work.
The schemes are for the new Grand Paris Express network, comprising 200km of new lines and 72 new generation stations, is designed for use by around two million passengers. Arcadis was appointed this month for work on a new orbital line as part of the project.
"I am delighted that Systra can help to improve collective mobility in the Greater Paris region by developing safe, efficient and comfortable transport systems for local residents," said Systra CEO Pierre Verzat. "The technical complexities, costs and deadlines for this project are a major challenge and source of motivation for us. Resolving such issues is in our DNA. I am quite touched by the confidence SGP has shown in us and in their highly professional approach to the tender process, awarding contracts to very tight deadlines."
Systra also won the project management contract for all automated systems and rolling stock for Lines 15, 16 and 17 as well as assistance to the owner on systems.


The group will work with its partner-shareholder, RATP provide technical assistance on systems for the three and will advise SGP on all major systems choices and be responsible for systems integration, performance and coherence. It will also manage projects involving the rolling stock as well as driverless and central control systems, and will manage systems operations for all the other lines.
Systra will be helping to commission successive sections of line between 2020 (from Noisy-Champs to Pont-de-Sèvres) and 2030. "There is no doubt that one of the Group's most significant assets in winning this contract was its technical partnership with RATP and their complementary areas of expertise," said Verzat.
The Greater Paris Express is at the centre of a global and sustainable development strategy for the region that reconciles quality of life with access to outlying districts, economic growth, environmental constraints and international competitiveness.
Got a story? Email news@theconstructionindex.co.uk