Two months after completing her 2.7km tunnel drive from Pudding Mill Lane to one of Europe's largest mined caverns at Stepney Green, tunnel boring machine (TBM) Jessica made a 5km journey to her next launch point at the project's eastern tunnel's Limmo Peninsula site at Canning Town.
To make the trip, Jessica was dismantled, lifted out in pieces by crane, loaded onto heavy load-carrying flatbeds and transported from Stepney by road in a series of carefully managed operations.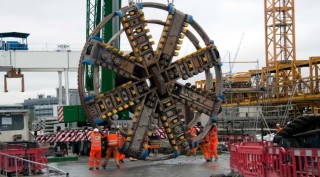 This week, her 7.1m-diameter cutterhead and 65t shield were driven through the streets and through the Limehouse Link before being unloaded at Limmo Peninsula to be re-assembled and put back to work constructing the final Crossrail tunnels between Limmo and Victoria Dock Portal.
Dragados Sisk Joint Venture, the contractor constructing Crossrail's eastern running tunnels, has spent several months working with the Metropolitan Police and local authorities to plan the route through the heart of east London.
Got a story? Email news@theconstructionindex.co.uk