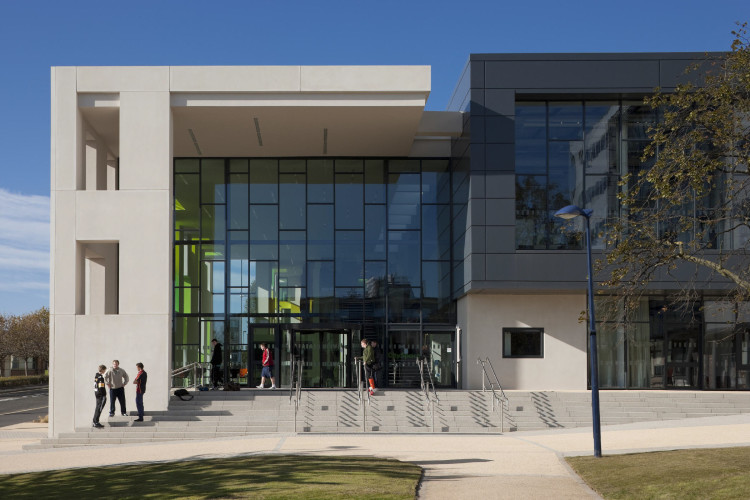 Architectural aluminium systems specialist, Technal, has helped to create a highly distinctive and complex façade for an innovative new campus building at the University of Sunderland, using three variations of its MX curtain walling system. 
The CitySpace facility, which has been selected by the ODA as an Olympic and Paralympic training camp for London 2012, has also achieved a BREEAM excellent rating.
Designed by architects FaulknerBrowns and constructed by Morgan Ashurst, the £12m landmark building is seen as the first in a new generation of sports and social buildings.
Glazing contractors, AC Yule, worked alongside the design team from the earliest stages to develop a highly engineered solution using two options from Technal's MX curtain wall suite – giving the appearance of bespoke façades but with all the cost, lead-time and performance advantages of a proven aluminium system.
Technal's MX SSG structural glazing was used to form distinctive coloured rectilinear openings between pre-cast concrete panels in a striking random pattern.  This is the first time the system has been used in this way.
MX SSG is a flush curtain walling option which met the architect's requirements for less visible aluminium and clear expanses of glass.  Interlayers for the laminated glass in five shades of green give the building a clear identity and provide a strong contrast to the crisp white L-shaped concrete panels on the most prominent elevation.
The solid mass of the south elevation moves to a more open, highly glazed façade on the east side of the building that overlooks the university square.  Here, Technal's MX Visible Grid curtain walling has created a more transparent appearance and allows high levels of natural light to stream through the main entrance, ground floor retail unit and fitness suite above.                                   

On this elevation, the curtain walling transoms are staggered at different heights to add further interest, and a large section of the glazing has been set into a 'picture frame' of anthracite-coloured bi-modular cladding panels. This provides a visual connection with the award-winning Gateway campus building that was also designed by FaulknerBrowns and features Technal's glazing throughout.
On the new CitySpace building, linear roof lights formed from Technal's MX Sloped Glazing throw natural light back into the triple height social space and the split-level fitness studio.
Commenting on the design of the CitySpace building, Andrew Kane, Partner at FaulknerBrowns, said, "This ambitious, landmark building is seen very much as a catalyst for the regeneration of the Sunderland City campus".
"Selecting a high performance silicone-bonded curtain walling system allowed us to create a striking, bespoke appearance for the most prominent façade of the new building, whilst also meeting the construction budget.  It gives the effect of frameless openings set into irregular panels of concrete, and together with the full height grid curtain walling, helped us to realise our vision for an iconic building that will enhance the academic performance for the entire university population."
The CitySpace scheme has a number of sustainable features which contributed to its BREEAM excellent rating.  It benefits from ground source heat pumps, high levels of natural light, rainwater harvesting, passive ventilation, and the use of coloured glass to reduce solar gain.
The building accommodates a range of indoor sporting and social facilities, including a six badminton court sports hall, 70 station fitness suite, sports massage and injuries centre, multi-purpose room, indoor climbing wall, and retail, catering, leisure, seminar and exhibition spaces. The facility is also a strong addition to the University's support for world athletes following its selection as an Olympic Training Centre for the 2012 London Games.
Got a story? Email news@theconstructionindex.co.uk