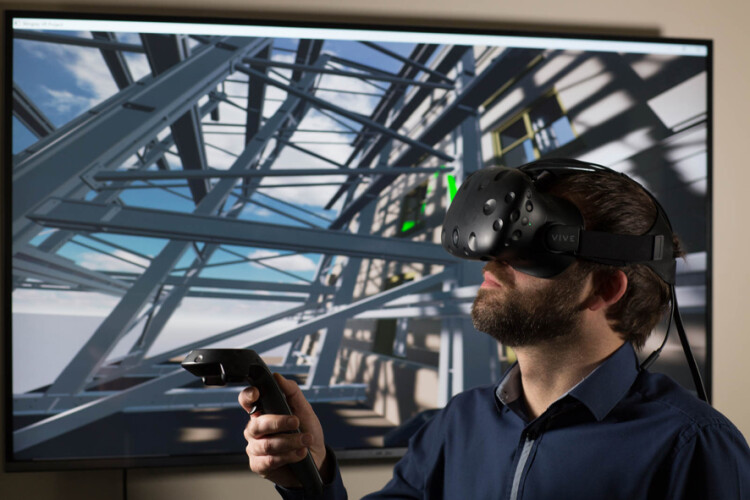 Temporary works – perhaps because they're temporary – are seldom credited with the same technological sophistication as permanent engineering structures. And yet the delicate balancing act often performed by temporary support structures demands an advanced level of engineering design.
The evolution of digital design technology, from CAD through to BIM Level 2 and beyond, has been so rapid that it can be difficult to keep pace of the requirements across the supply chain.
This article was first published in the January 2022 issue of The Construction Index Magazine. Please sign up online  
Ten years ago, design was still shared on a 'need-to-know' basis; but the development of BIM (Building Information Modelling) soon demonstrated the logic of creating an interactive 3D design model accessible to all members of the supply chain. It means better coordination and clash detection, improved scheduling and sequencing, enhanced productivity, even safer, healthier sites. Basically, with BIM, everybody benefits.
Even the government recognised the value of BIM, and since 2016 all major public sector projects have had to be compliant with BIM Level 2. This essentially means that data collected about a built asset is now shared and, although there may not be a single source of data, there is commonality in the data structure that enables a 'federated' BIM model to be produced.
BIM is therefore not just a tool for the main contractor and consulting engineer. Specialist contractors also need to develop BIM capability, particularly if they want to win contracts on major construction and civil engineering projects.
One such specialist is temporary works supplier Mabey Hire which has recently launched its own bespoke design product, called EVE (which stands for Engineer, Visualise, Explore). This software allows the use to explore a project using 3D visualisation before work starts on site and then at all stages during construction.
Described as "an immersive experience", EVE integrates 3D workflows and BIM models into a single interactive virtual environment. You can 'walk' through the project; view elements from any angle; switch out or modify details and see how that changes the overall picture. It also provides the crucial BIM capability of seeing how changes to the temporary works structure affects other elements in both space and time.
"Digital engineering has long been heavily embedded within our business," says Dave Holland, Mabey Hire's monitoring and technical director. "We're always striving to stay at the forefront of industry innovation." According to Holland, Mabey Hire was the first temporary works provider to receive the BSI Kitemark for BIM, as well as BIM Level 2 certification for design and construction.
"EVE is the latest example of this commitment to digitisation and innovation, further enhancing our collaboration with customers and enabling us to provide the best possible engineered solution for their project needs," says Holland.
EVE pushes the existing benefits of 3D modelling even further, explains Holland, creating a more immersive experience and helping to bring a project to life.
Five years ago, in a bid to boost its digital design capability, Mabey Hire assembled a specialist team to explore transferable technology from other sectors. Digital engineering manager Andrew Gascoine looked outside the construction industry for new skills, for example recruiting specialists from the computer-gaming industry.
In 2017 Mabey Hire achieved accreditation to PAS1192 (the BIM Level 2 specification published by the British Standards Institution). "That gave us the foundation on which to build our interactive environment," says Gascoine.

Gascoine says that customer feedback has been instrumental in the development of EVE. "We're on that journey with our customers. We have our own vision of where we want to be, but we don't want to do it in isolation." Before the official launch of EVE in October, Mabey spent 12 months trialling the technology with individual clients.
According to Holland, the Covid lockdowns of 2020 proved a catalyst to the refinement of the EVE visualisation technology. "When Covid struck, our ability to have normal meeting just went and we began to focus very much on how virtual reality could replace actually being there in person," he says.
The highly-realistic rendition offered by VR and computer-gaming technology means that a whole variety of alternative ideas can quickly and easily be tried and tested in the virtual world to see what works and what doesn't, explains Holland.
"For example, say a client wanted to jack up a road bridge to replace the bearings. In the past we'd have mocked-up an actual full-size plywood replica of the bearing shelf in our yard to demonstrate how we'd do that," he says. With EVE not only do you not have to build a replica; you don't even have to have everybody in the same place to share the experience.
Holland believes that Mabey Hire is unique in the temporary works sector in having developed its own digital design platform entirely in-house. But although it's a bespoke system, it is fully compatible with the most widely use BIM workflows including Autodesk Revit, Civils3D and Navisworks.
 "We've identified the use of games skillsets to bring elements that you wouldn't normally see in an engineering context. We can take clients' BIM information – other members of the delivery team can also contribute their data – then we plug it straight into our system where everyone can access the temporary works model," says Gascoine.
"We've identified 10 software systems that are go-to BIM systems and tailored EVE to interface with them," he adds.
Although officially launched only in October, EVE has been tested on about 20 real projects already and has proved its ability to streamline construction, saving time and money. On one façade-retention project, the application of EVE allowed the temporary support structure to be extensively modified. "Because people could physically see the space available on site, we were able to change the way we did the job," says Holland. This reduced the programme time by more than 50%, from five weeks to two, he says.
This is one of the big advantages of EVE, says Gascoine: "Clash detection is an essential part of the delivery but there are other focuses to BIM. Now we're using that technology to help us and our clients actually visualise alternative solutions".
In terms of site safety, EVE allows the construction team to explore the temporary works scheme as it will appear on site before they even get there – effectively providing a dress rehearsal for the real thing. People can identify and highlight potential hazards and plan around them and even view model data such as dimensions and weights.
Holland concludes: "As well as being a great client engagement tool and helping to engender client confidence in the temporary works design, we also hope that EVE will serve as a catalyst for further digital innovation within the temporary works industry."
This article was first published in the January 2022 issue of The Construction Index Magazine. Please sign up online  
Got a story? Email news@theconstructionindex.co.uk