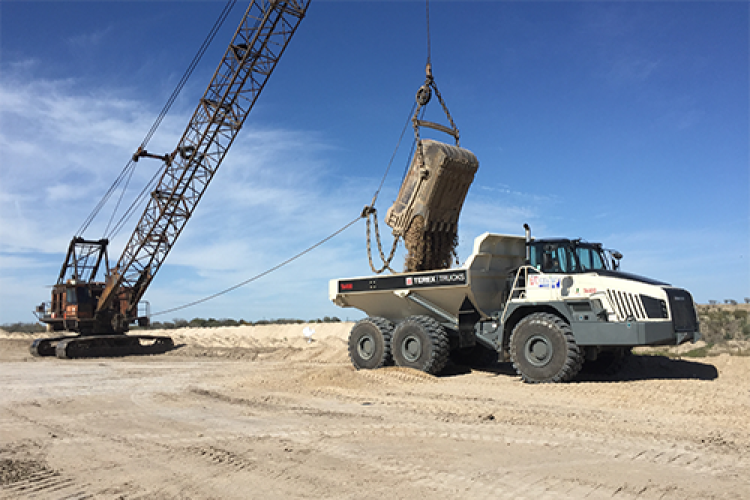 Family-run B-C Equipment Sales has been in operation for more than 30 years. The company will be selling, renting and leasing Terex Trucks' TA300 and TA400 articulated haulers, as well as providing parts and service.
The Texan dealer employs 12 technicians, who will be providing customers with a maintenance service. "We're thrilled to represent Terex Trucks," said Bill Lathrop, who founded the company with his wife Cathy. "Like us, their goal is all about providing the best machines with the best customer service. With the demand for articulated haulers increasing like it is, we're confident that our customers will be pleased to see that we are now offering proven performers like the TA300 and TA400."

The TA300 is used for applications ranging from quarries to infrastructure developments and commercial construction projects. It is powered by a Scania DC9 engine and has a maximum payload of 30.9 tons (28t tonnes). The TA400, Terex Trucks' 41.9 ton (38 tonne) articulated hauler, is used by customers working on major construction projects, mines and quarries. It has a heaped capacity of 30.3 yd3 (23.3 m3). Both machines also come with hydrostatic power steering and hydraulic braking systems.
"Choosing to partner with B-C Equipment Sales ultimately came down to two factors that really differentiate them from their competitors," says Dan Meara, Terex Trucks regional sales manager. "Firstly, they have an incredibly strong reputation built on trust, quality and tradition. As a company, they are all about people, which means they always go the extra mile to give their customers a fantastic service. In addition to this, B-C Equipment Sales has longevity. Having been a leading supplier of construction equipment for more than 30 years, customers can be assured that they will be around to support their machines for the long haul."
Got a story? Email news@theconstructionindex.co.uk