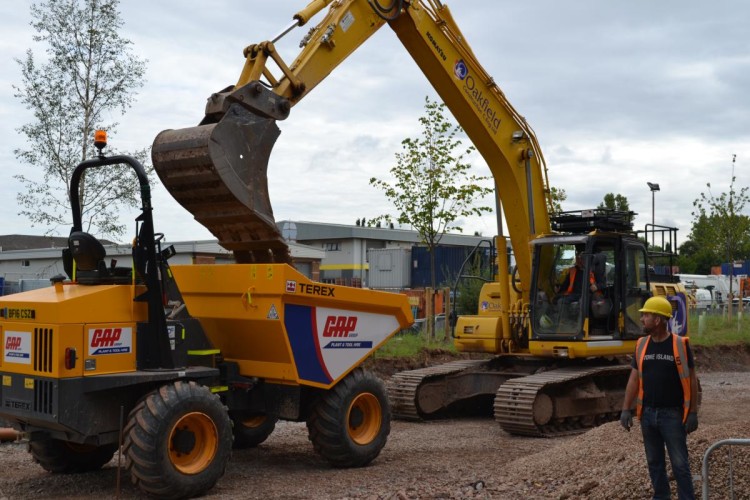 The machine is already being used by Oakfield Construction at the Ibstock Brick construction site in Leicestershire.
It has two engine technologies designed to improve cycle times and optimise unit performance. Powershift transmission – which provides gear changes via a dash-mounted lever – has been paired with the Autoshift technology developed in-house by the Terex engineering team. Autoshift uses torque demand, rather than engine speed, to guide gear changes changes.
Terex says that in challenging and demanding conditions – such as steep gradients and high payloads – Autoshift technology enables the transmission to hold lower gears for longer, providing torque, power and drive when it's needed most.
The site dumper also features Stop Start Control, which automatically starts and stops the engine in predetermined conditions.
Oakfield Construction equipment operator Ben Longmar said: "After running the TA9P for the past working week, I'm impressed with the modern features and technology. Powershift transmission and Autoshift technology make gear changes really smooth, while Stop Start Control prevents the machine from being left idle.

"Whether empty or fully-laden, the engine is powerful enough to get up hills quickly which helps move materials around faster on-site. It's intuitive to use, comfortable and drives really well. Overall, it's a great piece of kit!"
The 9t unit has also been fitted with a green LED beacon that is directly connected to the ignition and ensures that the engine will not start unless the operator has engaged the seatbelt.
GAP group procurement manager Ken Stewart said: "We continue to enjoy a longstanding relationship with Terex, thanks to the company's equipment quality and attention to detail. Cost of ownership and overall value for money is hugely important for us, which is why embracing the latest on-site technologies and product innovations is so significant.
"Taking delivery of the first ever Terex TA9P site dumper featuring state-of-the-art Powershift transmission is testament to our ongoing relationship, and it's great to hear such positive feedback from operators already working on site."
Got a story? Email news@theconstructionindex.co.uk