After our analysis last December of house builders and their burgeoning financial health, this month is a case of going back to the scenario of the ultra-low profit margins endured for so long by so many parts of the construction industry, but this time with the mitigating factor of extraordinarily low debt levels. Nick Hood reports.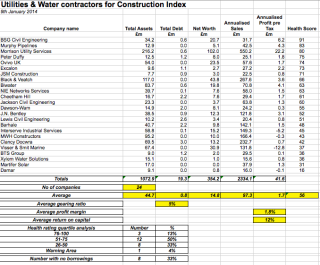 The run of positive news from the construction sector suffered an unexpected blip on 10th January when the Office for National Statistics revealed a fall of 4% in November in the output of the industry, the sharpest monthly decline since June 2012. Nevertheless, the year-on-year trend remains upwards, rising 2.2% since November 2012. This followed hard on the heels of an upbeat arkit/CIPS Construction PMI index reading of 62.1 for December, slightly down from November's 75-month high of 62.6 but still well above the 50.0 'no change' level. Whatever may be happening in the industry as a whole (dominated as it is by the surging house-building sector and by the broad sweep of commercial, industrial and infrastructure activity) the short and medium term prospects for specialist contractors who make their living from utility and water projects are likely to be influenced by a number of narratives not connected with the performance of the UK economy as a whole. The public outcry over rising energy prices, plus threats from both the government and the opposition to intervene directly and rein in what is perceived to be profiteering at the expense of the vulnerable, are beginning to impose strains on the business models of the major players in energy generation and supply. At the same time, the catalogue of flooding events over the festive season and into the early weeks of 2014 may yet drive higher investment in flood defences and water management, despite the budget cuts scheduled for the Environment Agency as part of the government's deficit-reduction programme. On the other hand, Ofwat has told the industry to stop putting so much emphasis on capital expenditure and change its mindset to focus on total expenditure. This new approach is meant to bite in the industry's next regulatory period (AMP6), which kicks off next year. The recommendation is for the water companies to develop 'no build' solutions to supply and quality issues, which is bound to have repercussions for contractors. In the renewable energy sector, some commentators have described the situation as critical, with the cutting of green levies and the confirmation of reduced rates of government support after minimum subsidy strike prices from 2015 onwards were announced at the start of this year. Onshore wind projects are one category likely to feel the pinch as they struggle to meet the government's aim of ensuring they are cheaper than the new nuclear capacity being planned for 2023. As always with the utility and water sector, the lead time for contracts is long and the upfront investment of time and money significant. But cancellation is invariably abrupt and costly.

The companies we have analysed for this month's report are those with a turnover of £15m or more in their latest published accounts. The sample totalled 24 UK-based companies and wherever possible we have taken our data from a specific independent company or a group subsidiary specialising in utility or water contracting. The Company Watch data on the financial status of these companies shows a paltry level of profitability in line with other sub-sectors such as road builders, commercial builders and M&E contractors, which we have featured in previous reports. Overall, their margins were 1.8% on reported turnover, which compares with 3% for road builders and commercial builders and an even slimmer 2% for M&E contractors. By contrast, it lags well below the 15% earned by plant hire companies and 10% by house builders. The trade-off between risk and reward varies across the construction industry, particularly when profits and borrowing levels are compared.
For utility and water contractors, gearing is at an abnormally low level of just 5%, the lowest of all the sectors we have reviewed so far. By comparison, plant hire companies have to earn higher profits to compensate for a heady level of 78% gearing. M&E contractors may make just 2% profit, but their gearing is only 7%. House builders sit in the middle of the spectrum; they earn 15% but they only borrow 23% of their net worth. A remarkable eight companies (33%) of our sample this month have no external borrowings at all. The average return on capital for the 24 companies is a respectable but unexciting 12%. Looking next at the overall financial health of our sample, we have calculated the Company Watch health rating (H-Score) for every UK company, based on the interaction between seven key financial ratios involving profitability, funding and asset management. These are extracted from published financial information and processed through a mathematical model which compares this data with the characteristics of companies that fail and those that survive. This produces an H-Score out of a maximum of 100. As regular readers will now know, a score between 76 and 100 puts a business in the financial Premier League. Between 51 and 75 is more akin to Championship form while a score between 26 and 50 indicates a company which is financially off-colour. Those that cause concern have scores of 25 or below, which is the Company Watch warning area indicating abnormal financial vulnerability. Over the past 15 years, a very high percentage of UK companies that filed for insolvency or underwent a financial restructuring were in this warning area of 25 or below at the time. Not every company in this red zone fails, because of remedial management action, but it is a clear indication of heightened financial risk for their clients, suppliers and service providers alike. Looking at the profile of the 24 utility and water contractors on this measure, their average H-Score is 56, which is significantly above the norm of 49 for all UK companies of similar size. The low levels of debt play a part in this outcome, as does the absence of any companies with negative net worth (liabilities greater than their assets). This is the highest average reading of the six sub-sectors we have analysed previously. Additionally, the good news is that only one of our 24 contractors is in the company Watch warning area, again the best result on this test. Across the economy as a whole, the expectation would be that around 25% of any sample would be in this financial twilight zone. Looking at the better performers, 63% of the sample have H-Scores of 51 and above, as compared to around 50% for all UK companies. As noted above, none have negative net worth, although four are loss-making. The results of our research are certainly encouraging, but it is worth repeating once again the comments from previous reports that our figures cover only the major players in the market. There are also many smaller, generally undercapitalised and almost exclusively family-owned SMEs, often operating within the potentially abusive relationship of sub-contractor to a more powerful and far bigger main contractor. Their prospects are inevitably less rosy. One of the unfortunate realities of the economic cycle is that in the wake of every major recession for the past 40 years, insolvencies have peaked somewhere between 15 and 18 months after sustained recovery has taken hold, as it seems to have done now. The reason for this seems to be that surviving companies burn through their reserves during the recession and then struggle to raise the extra working capital they need to fund increased sales and investment. This effect is likely to be particularly marked as we move into the middle of 2014, because the financial services sector has taken such a severe hammering. Many banks and other lenders are still struggling to repair their own balance sheets. Put simply, they have less money to lend and will be far choosier about who they lend to, which is bad news for small sub-contractors. Despite the apparently strong financial foundations of our major utility and water contractors, their management could be forgiven for some confusion as they try to read the commercial runes for the medium and longer term. There are too many uncertainties, most of which are outside their control. Will profits continue to flow, however marginal their levels might be? Will they be able to maintain the ultra-low borrowing business model which has served them so well in financial risk terms? For this sector, 2014 could turn out to be not just an interesting year, but a seminal one. It's hard to resist the suggestion that the water industry in particular faces a sea change.
Got a story? Email news@theconstructionindex.co.uk