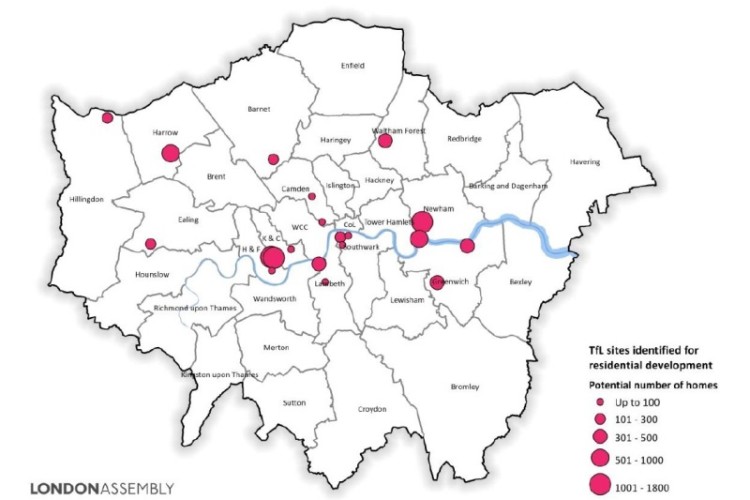 Transport for London (TfL) is one of London's largest landowners and Mayor Sadiq Khan has made it a priority for if to develop "genuinely affordable" homes on its surplus land.
However, a report out today from the Assembly's cross-party housing committee, questions TfL's suitability for the role of property developer.
Titled Homes down the track1, the report says that TfL requires organisational change if it is to become a property developer, which takes time.
Among its recommendations, the report says: "TfL needs to ensure effective joint working between its property development and operational and technical staff, to minimise and resolve early the inevitable frictions which will arise for each scheme."
It also recommends: "TfL should consider whether it needs to add a property professional to its board membership to ensure effective oversight of its property development activities."
The report says that TfL should prioritise identifying smaller sites for early development. "By the end of 2017, it should put together a pilot approach to working with smaller builders, to deliver two or three 'quick win' sites as demonstration projects."

And it says that TfL should appoint someone to its property development team with a special remit to promote opportunities for small building firms.
Andrew Boff AM, chair of the London Assembly Housing Committee at the time of the report's production, said: "TfL is gearing up to become a significant property developer, with the help of private sector expertise. In forming joint ventures with its development partners, it is retaining, in the main, a long-term interest, offering it control over what is built, and generating ongoing revenue streams.
"TfL has set itself the target of starts on sites by 2020 to deliver 10,000 homes.  Our evidence suggests this is something of a sprint, and we don't think it's going to make it unless it takes some more radical steps.  Either way, we need to be clear about the trade-offs TfL's making, to be sure its land is delivering the best deal for Londoners."
TfL owns 5,700 acres across London, which is about 1.5% of the whole area. Although the majority of this is considered unlikely to be developable, TfL has drawn up a list of around 100 priority sites, totalling approximately 300 acres, which it wishes to bring forward for development.
The proximity of the sites to transport interchanges makes them highly desirable but developing them will also be complex, working around operational transport requirements.
1.  'Homes down the track – a marathon and a sprint for TfL'
Got a story? Email news@theconstructionindex.co.uk