However, those who prefer their magazines digital, complete with dynamic content and moving images can enjoy it now FREE on the following links.
In this months issue:
"The next general election takes place on May 7th 2015 – over a year ence – and already the Conservative party is setting out its stall for voters. Last month's Budget showed the chancellor George Osborne in upbeat mood, but not so upbeat that he could afford not to remind the electorate that he has plenty of work yet to do. The clear message was "vote us out and all my good work will come undone." Another clear message that the Tories have plenty of goodies yet to deliver was roads minister Robert Goodwill's call to contractors in February to gear up for "the biggest investment in the road network since the 1970s".
Our five-page Roads feature, starting on p20, takes a critical look at what's on offer this time round.
The Tories have made similar promises in the past. In 1989 the "Roads for Prosperity" white paper promised massive investment in new roads. You may remember that this was met with a fierce outbreak of anti-roads protests. Very few of the schemes actually went ahead.

Infrastructure investment does seem to be pulling ahead, though. This month our regular Contracts League shows that road and rail contracts exceeded house-building for the first time since we started tracking the figures.
But it also shows that the total value of work going out to tender in the first three months of 2014 is well below the same figure for Q1 2013. Workloads may actually decline next year, despite the government's ambitious plan for the road network."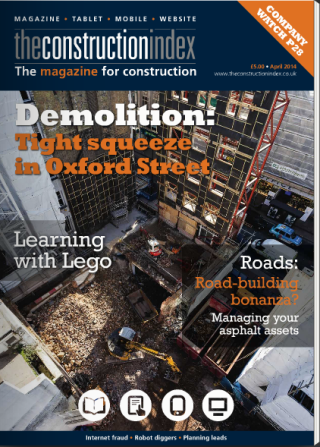 Got a story? Email news@theconstructionindex.co.uk