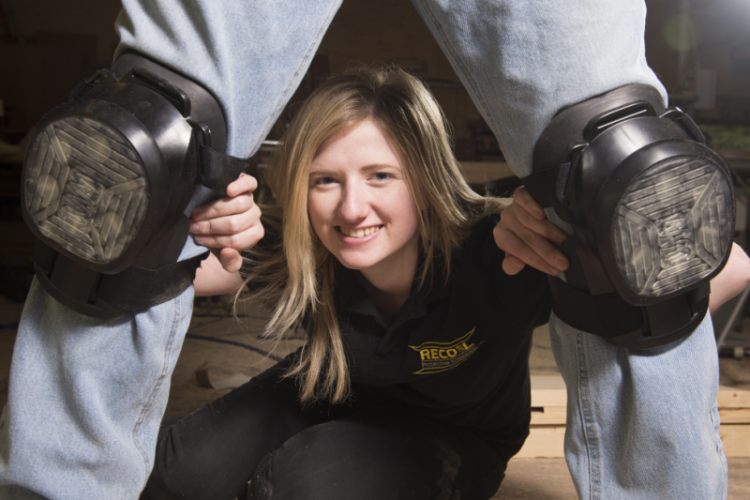 Recoil Kneepads have springs sandwiched between two layers acting as a shock absorbing and pressure reduction system. Pressure is reduced across the entire knee joint rather than focusing on one small area. The double layer system pivots so the user can kneel from side to side without the kneepad slipping away and the strap rests on the shin rather than the back of the knee, improving comfort.
Vicky Hamilton, aged 25 and from Glasgow, originally developed Recoil Kneepads as part of her final year project while studying product design engineering at the University of Strathclyde. She was inspired to help her dad, Gordon Hamilton, 48, who suffers from osteoarthritis, which he believes has been caused by his lifelong career as a joiner.
After graduating, Vicky had a safe job offer waiting for her but instead, with the support of entrepreneurial organisations including the Scottish Institute for Enterprise, she decided to turn Recoil into a business.
Vicky said: "The idea for Recoil came about one evening when I was listening to my dad complain about his sore knees at the dinner table. None of the kneepads he had tried were helping and it suddenly clicked that I could create something that would improve life for him and other tradespeople.
"A huge amount of research has gone into the development of Recoil Kneepads over the last four years to create a product that outperforms those already available on the market."


The kneepads have been put through their paces at the University of Strathclyde laboratories, with tests finding they decrease pressure by 76%, making them more effective at reducing pain than the major competitor brands. The nearest competitor reduces pressure by 60.7%.
Her father, Gordon Hamilton (pictured with Vicky below), said: "I am extremely proud of what Vicky has achieved. She has certainly found a solution to a problem myself and many others in the trade suffer from. I find Recoil Kneepads extremely comfortable and they make prolonged kneeling a lot more bearable. I never thought my complaining would have resulted in such a fantastic product!"
Vicky added: "I want Recoil to have a positive impact within the UK business community. We manufacture the kneepads in the UK in Edinburgh, and I plan to invest in job creation over the next year. I'm also very interested in connecting with potential stockists over the next few months."
Recoil Kneepads weigh 445g and measure 26cm x 14cm x 13cm. They are available for £39.99 including at: www.recoilkneepads.com.
Got a story? Email news@theconstructionindex.co.uk