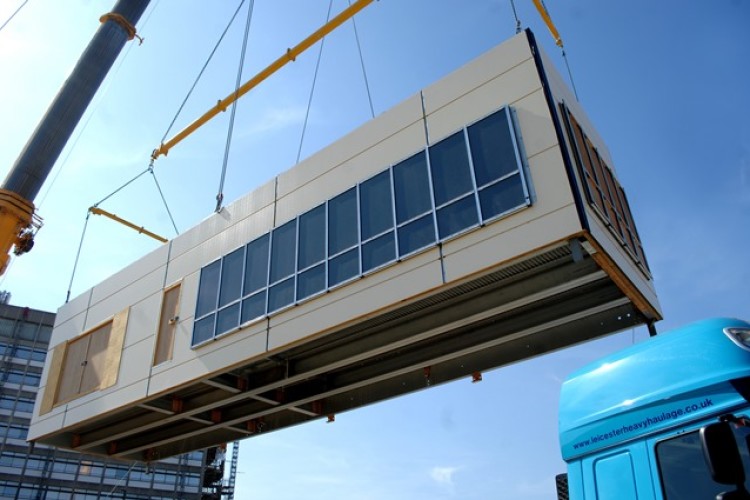 People do a lot of things remotely these days. There are conference calls instead of meetings, assignments carried out at home instead of in the office.
And then there are construction projects where the real action is taking place hundreds of miles away.
This is the case at North Middlesex University Hospital (NMUH) in north London. Its new Women & Children's Centre, due to open in November 2013, was actually built in York and has been fast-tracked into existence through the most ambitious off-site prefabrication exercise in the UK health sector to date.
Covering 7800m2, the two-storey building and added plant room is the largest and most complex healthcare scheme ever undertaken by off-site specialist Yorkon.
Constructed under the ProCure 21+ framework for main contractor Kier, the L-shaped steel-framed structure contains a wide variety of facilities for expecting and new mothers, including operating theatres, delivery rooms and a neonatal unit, as well as birthing pool rooms and a postnatal ward.
Despite the complexity of the building, the entire project is scheduled to be completed in just one year.
"The biggest advantage of off-site construction on this project has been speed," says Clive Watson, project manager at Kier Construction. "It has also brought quality benefits because it has allowed so much of the construction to take place offsite in a controlled factory environment that is not affected by poor weather conditions," Yorkon operations manager Ken Smith estimates that prefabrication has reduced the construction schedule by around six months.
"Tasks have been carried out in parallel," he says. "While Kier was installing the piles for the foundations, the modules for the superstructure were being simultaneously manufactured at our facilities in York."
North Middlesex University Hospital is the first major project to use Yorkon's new building system, which enables the construction of larger modules than was previously possible, offering more flexibility and choice to designers and clients, Yorkon says.
Flexibility has certainly been crucial to the design of this structure, which comprises 152 steel-framed modules in varying sizes and configurations. The modules are up to 18m long, and arrived on site already kitted out with doors, windows and high-performance concrete floor. The first fix for electrics and plumbing had also been completed.
Transported to site on low loaders, the modules undertook their 300km journey with relative ease, following a specially-designated police route.
"Sometimes we have to remove a fair bit of street furniture in order to get the modules to site. For this project it was only necessary to remove a few bollards near the hospital," says Smith.
Once on site, the modules were immediately craned into position.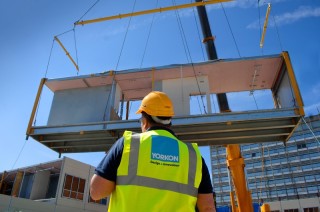 "We did this in one hit," says Smith. "No storage was required on site."
Even though the units weighed no more than 18 tonnes, the site team took the strategic decision to invest in a 500-tonne capacity mobile crane that could easily and quickly place all the loads without having to move around.
"Setting up, dismantling and moving smaller cranes could have added several extra days to the schedule," says Smith. "Using a larger crane definitely made things faster for us." All modules were craned into position in 28 days in the spring at the rate of five modules a day, when conditions were good. They were immediately bolted into place vertically and horizontally.
Despite the painstaking work at the factory, much work still needed to be done internally. Owing to the complex configurations and requirements of the building, it had been possible to fit only 50% of the partition walls to the modules in Yorkon's production centre. The remaining partitions had to be installed in the traditional way once the modules had been bolted into their final resting place.
"Some amount of finishing is always necessary on site even for prefabrication projects," Smith says.
Once again, careful planning enabled tasks to be carried out in parallel to keep the construction process lean and efficient. The first modules were craned into place at the farthest end of the site and were quickly built up into two storeys. Later modules followed in sequence, following the L-shape of the building.
Yorkon drew up a detailed fit-out programme so that internal work could begin at one end of the structure while later modules were still being craned into place further down the site. The work was carefully coordinated to reduce risks.
"We divided the building into seven blocks and ensured that activity could only start inside [each block] once the crane had stopped moving overhead," says Smith.
The last units to be craned in were for the plant room, which sits on top of the structure. These modules already had air conditioning units pre-installed inside them.
 Yorkon has also constructed a two-storey glazed atrium at the entrance to the building using more traditional methods.
"A lot of people don't realise this, but we sometimes do traditional build as well," says Smith.
The final fit out is now well underway, and the project is on track to open in time for the NMUH's busy winter period.
"The off-site approach has radically reduced disruption to patient care and has reduced wastage. We typically find that off site prefabrication can reduce material wastage by up to 90% and vehicle movements to site by up to 90%," says Smith.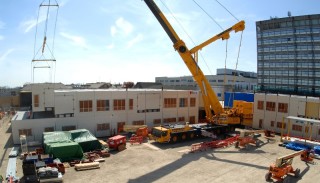 About the hospital
The new Women & Children's Unit at North Middlesex University Hospital is being built by main contractor Kier Construction on a £17.9m contract procured under the ProCure 21+ scheme.
It has been designed by architect and project manager AHP.
The scheme is part of a major reorganisation of services in the London boroughs of Barnet, Enfield and Haringey to accommodate the rising birth rate in the area.
Designed to reflect and blend with the design of adjacent hospital buildings, the centre has a rendered façade, as well as large projecting window bays. The two-storey glazed atrium entrance is complemented by full-height glazing on the stair towers at each of the building's wings.
Targeted to achieve an 'Excellent' BREEAM rating, the scheme boasts a number of sustainability features including a combined heat and power system. Photovoltaic panels have been installed above the plant room. There is also a sedum roof containing a variety of meadow flowers.
Constructing the modules
Modules for the North Middlesex University Hospital (NMUH) job were constructed at Yorkon's prefabrication facility in York at an average rate of seven a day.
The steel-framed modules are built on jigs on a production line that moves slowly along rails set into the floor. "Our production facility works to very tight engineering tolerances of plus or minus 1mm," says Smith.
The floor frames are assembled first, then columns are added, followed by the roof frame, the wall panels and finally the roof itself.
"We use the same equipment for handling roof sections that is used to handle aircraft wings, turning them over and lowering them onto the modules," Smith says.
Each module is supported by its own internal steel frame. At NMUH, the frame is predominantly made up of 150mm square hollow section columns.
"For the NMUH modules, there is typically one column at each corner of the module with some intermediate smaller columns to suit particular loading arrangements," comments Smith.
The columns sit within a 200mm cavity and the wall thickness of the external composite wall panel is 100mm.
Eight of the 152 modules have a particularly unusual shape. They are chamfered, to create a sharp angle at the end of the L-shaped building.
Yorkon has also supplied a modular section that links the new building to the existing hospital.
Yorkon's new building system
Yorkon's recently-launched building system has thousands of configurations and permutations that, the company says, should give architects, contractors and construction clients the "unrivalled design flexibility to meet almost any building footprint".
One of the key advantages of the new system is that it is now possible to fabricate larger modules. This could lead to a building requiring fewer modular components overall, increasing efficiency and further reducing transport costs to site.
The module lengths start at 6m, building up in 750mm increments to a maximum of 18.75m. Yorkon's previous system could only achieve a maximum length of 14.25m.
As a result, says the company, it is now possible to create larger spaces without the need for visible columns either internally or externally.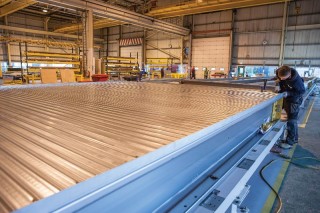 "External columns were required on our previous product. So buildings always had a modular feel about them unless they were completely covered with cladding," says operations manager Ken Smith.
The system offers two options for module width of either 3m or 3.75m and three height options for singlestorey buildings. Special modules are also available in seven different heights to link to existing traditionally-constructed buildings.
On site, connecting the modules together can now be carried out entirely from inside the structure.
"This method is more efficient, quicker and safer," says Smith.
Architecturally, the system can accommodate a variety of cladding, glazing and roofing options. It is possible to install features such as bay windows, and exterior wall panels can be decorated in unusual patterns and colours.
"Our modules comply with the latest building regulations. And the new wall construction offers improved insulation and acoustic performance," says Smith.
All modules come with a 30-year structural warranty.
Got a story? Email news@theconstructionindex.co.uk