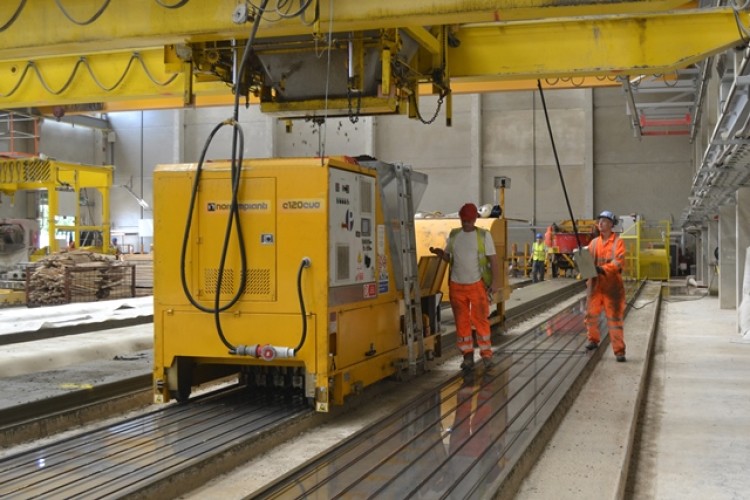 Just outside the small Suffolk market town of Brandon lies a state-of-the-art precast concrete plant. It is less than 15 years old and has already seen two well established building materials producers come and go. There is now a third occupant in place – Oranmore Precast – and while it is not yet up to full capacity, it is well on its way.
The factory was built on a 6ha site acquired by Essex-based Milbank Floors for expansion in 2000. In 2006 it built a huge hall housing 12 concreting beds, each 150m long. It was one of the best facilities of its kind in the country, producing prestressed precast concrete hollow core flooring slabs. Within just a couple of years, however, the credit crunch had hit and in October 2008 Milbank Floors was in administration. Milbank restructured and reemerged but consolidated its operations at its Colchester headquarters, leaving its shiny new facility in Brandon vacant.
In 2009 Tarmac Building Products took it over for a Tarmac Topfloor facility. But before the year was out Tarmac had decided to mothball production here and in 2011 shut down most of its precast concrete and precast flooring operations.
It is often said in the property game that it is the third owner of big developments that finally gets to reap a profit. The same seems to be the case with this factory.

Newly formed Oranmore Precast took over the plant in November 2011, determined to make a go of it where bigger names had failed. It was set up by a small team of Irish precasters, who named the company after their home town in Galway. The management team is headed by managing director Richard Burke, who has 20 years' experience manufacturing precast concrete. Alongside him is commercial manager Sean Sharkey, who has been working in the UK precast industry for more than seven years.
With the Irish economy in the doldrums and a state-of-the-art precast factory up for grabs in England, they saw an opportunity and took it. They knew that some people considered them likely to fail. It is a huge plant; Milbank and Tarmac had both been and gone and the UK construction industry was barely any healthier than Ireland's. What were they thinking? But here was a modern, virtually brand new, precast plant readily available that would immediately put whoever got it into competition with the big boys like Bison and Acheson & Glover, with the capability of producing hollow core beams up to 500mm deep.
"We also knew that while the market might have been weak at that point, a lot of capacity had been taken out so the competitive environment was less fierce than it had been," Sharkey says.
The first six months were spent reorganising the factory and getting all the machinery refurbished and renewed by the Italian manufacturer. In May 2012 Oranmore opened for business. As it got production up and running, so the economy began to look brighter. In hindsight, it seems, the timing might have been perfect.
Between January 2013 and January 2014 monthly sales grew fourfold, partly due to getting a firmer foothold in the market and partly thanks to improving demand across the industry. Output is now running at more than 6,100m2 per week, which is approximately 60% of full capacity. It is aiming to reach 90% over the next 18 months.
Oranmore offers full design, manufacture and fixing nationwide for both main contractors (customers to date include Willmott Dixon, Keepmoat, Kier and Vinci Construction) and for concrete subcontractors.

The production facility comprises 12 parallel beds occupying a length of 150m along the 200m factory hall. There are six beds on one side, six on the other. Each bed is fitted with hydraulic tensioning jacks for pulling the prestressing cables taut. Each day concrete is poured in one half of the hall while the previous day's slabs on the other side are cut and lifted out.
Three Italian-made Nordimpianti extruders pour the concrete and form the slabs, taking it in turns to travel up and down the hall. While one lays wet concrete, another is cleaned out. Each machine comprises a hopper on top and a cassette below that forms the characteristic hollow core. There are six different cassette types available, capable of forming eight different types of plank from 150mm to 500mm in depth.
The hopper is fed by a skip that is fed in turn by a batching plant with two huge silos – one stocking clean aggregate, the other holding cement - located outside the building. Both of these hoppers are re-filled daily. The extrusion process is fully automated and a fresh skipful of concrete is sent out to dump its load in the pouring machine as soon as the system detects that it needs topping up. No human intervention is required.
Each 150m pour takes approximately 90 minutes, depending on slab thickness. On the other side of the hall, the previous day's slabs are cut into pre-determined lengths by a heavy-duty travelling saw before being lifted out by overhead crane. Yet another machine travels up and down the empty beds laying down the prestressing cable in readiness for tensioning.
Every plank is custom-made to the specification provided by the customer and is individually coded and labelled. Oranmore Precast prides itself on its speed of turnaround. While lead times can be frustratingly long in the precast business, the company says that its products can be shipped out within six weeks of purchase orders being signed.
Another key feature of this operation is the lack of waste. Around 97% of concrete that comes into the hall wet goes out as customer ready hollow core plank and any overspill or left-over concrete is recycled and sold on to contractors as aggregate. All the water that is used to wash down the beds before each new pour is funnelled back to a recycling station where it is filtered and re-used. Heavy waste taken out of it is also re-sold for aggregate. Apart from the fast turnaround, Oranmore also prides itself on the consistency of output – hence the lack of waste. The length of the beds in this huge hall contribute significantly, but the machinery used and the company's attention to detail are also factors.
Burke says that there are two central reasons why Oranmore Precast is making a commercial success of this plant where two others have tried and failed. "We make a good product, consistently," he says. "And we keep overheads very tight."
Sharkey says that another benefit of having a lean management team, aside from keeping costs down, is that it speeds up decision making. "It's very easy to get a yes or no answer in this company," he says.
This article first appeared in the July 2014 issue of The Construction Index magazine, which can be viewed in full at: http://epublishing.theconstructionindex.co.uk/magazine/july2014/
While the magazine is free to view online, a subscription is required to receive you own hard copy every month. This can be purchased for just £35 a year at http://www.theconstructionindex.co.uk/magazine
Got a story? Email news@theconstructionindex.co.uk