We reported in January that Toshiba Corporation had agreed to purchase the 50% stake in NuGen held by Iberdrola of Spain, plus a further 10% holding in the project from GDF Suez, giving the Japanese conglomerate a 60% controlling stake. (See previous report here.)
This transaction completed yesterday.
NuGen is planning to build three Westinghouse AP1000 nuclear reactors with a combined capacity of 3.4GW at Moorside in west Cumbria. Each reactor will take approximately four years to build. It is the largest, single proposed nuclear power plant construction project in Europe. When fully operational, the site is expected to deliver 7% of the UK's electricity need.
A deal has also been concluded with the Nuclear Decommissioning Authority (NDA) on the extension of a land option agreement for the Moorside site.
The Westinghouse AP1000 reactor – a pressurised water reactor – is licensed by the US Nuclear Regulatory Commission. Currently, eight AP1000 reactors are under construction around the world.

Before the final investment decision, which is forecast to be taken by the end of 2018, NuGen will be undertaking preparatory works, including regulatory, permitting and commercial activities. The management team's focus in 2014 will be on site investigations, preliminary studies for site layouts and stakeholder engagement and preparation for stakeholder consultations, the company said.
Tractebel Engineering, a subsidiary of GDF Suez, will act as the owner's engineer of NuGen. Its role will be to provide a range of engineering services from feasibility studies through construction, operation, maintenance and decommissioning.
Westinghouse president and CEO Danny Roderick said: "Westinghouse is delighted that Europe's largest AP1000 nuclear plant project to date will be constructed in the UK, which already is home to one of our largest global operations. The local economy will reap many benefits as a result of this project, including calling upon the local supply chain, and creating thousands of skilled jobs. We commend the UK on its decision to move forward with safe, clean and affordable nuclear energy that will benefit the region for decades to come."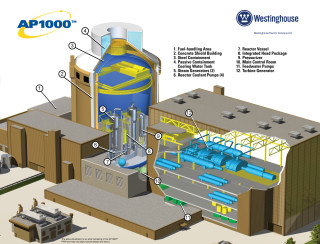 Got a story? Email news@theconstructionindex.co.uk