Menzi excavators have traditionally had wheeled chassis but the new M510 and the M515 Menzi-Master machines are crawler excavators.
The M515, depending on specification can weigh up to 14.5 tonnes and sits on a pair of 3.8-metre long tracks with a multi-positional, width adjustable undercarriage which takes the track gauge from 2500mm to a maximum 3500mm when running on 600mm track pads.
An optional set of rubber pads are available while options up to a maximum of 1800mm are available.
Unlike a standard extending undercarriage, the Menzi-Master is able to extend each track individually to offer full over the side lifting capabilities whilst still retaining a small a footprint. The undercarriage comes with a dozer blade with a 40-degree movement both up and down allowing it to steady the machine on slopes.
Menzi claims that its M series outperforms competitors in hydraulic performance and lift capacity from the front-end equipment. The standard machine has a pair of Bosch-Rexroth pumps, one each for travel and attachment operation. An optional third Powerline pump can be specified where a dedicated attachment supply is required. The standard set up allows flow rates of up to 200 litres/min and flow rates are controllable via the in-cab touch-screen.
The standard 1.8-metre extending dipper allows a maximum dig depth of 4.32 metres combined with a load-over height of eight metres. Lift capacity at three-metres radius is nine tonnes, or 2.4 tonnes at full reach.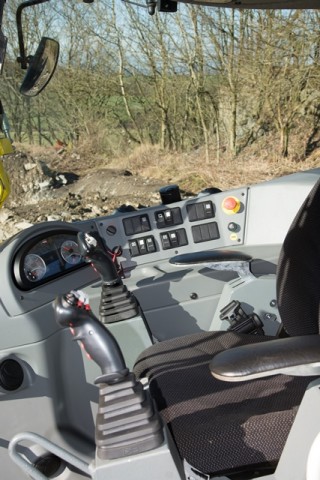 Got a story? Email news@theconstructionindex.co.uk