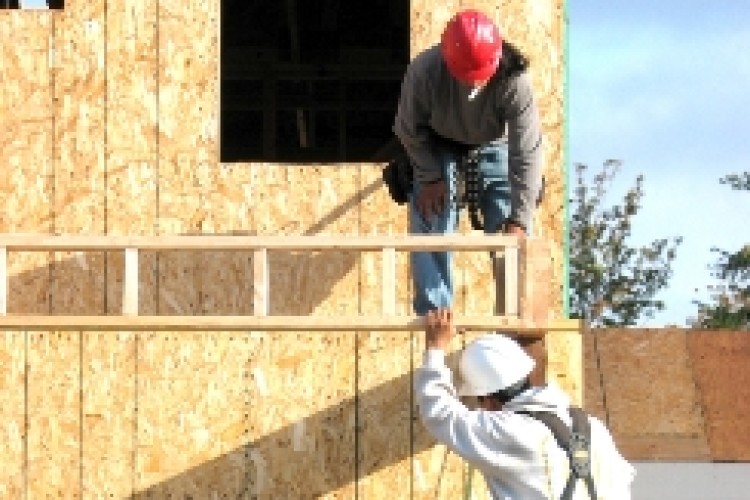 The latest Construction Trade Survey of the major trade associations shows that firms across the industry reported growth in activity in the second quarter of 2015, marking the ninth consecutive quarter of growth. 
While the near-term outlook is clouded by labour supply issues and rising wage costs, the report authors says, the responses to this survey indicates a slight easing in recruitment and capacity constraints.
These findings appear to conflict with the latest monthly report on jobs produced by the Recruitment & Employment Confederation (REC) and accountants KPMG, published last week, that showed demand for construction labour was still rising.
The REC/KPMG report was in line with the findings of the latest monthly survey of construction purchasing managers, which found subcontractor availability was continuing to tighten.
According to the Construction Trade Survey, 16% of building contractors reported difficulties recruiting on-site trades in the second quarter (Q2), compared to 31% in Q1. The percentage of firms reporting difficulties recruiting bricklayers dropped from 56% to 49% and those struggling to get plasterers dropped from 59% to 45%.
Either way, whether the skills shortage problem is getting easier or harder, it clearly still remains a problem.
The proportion of building contractors working at between 90% and full capacity was reported at 44% in Q2, down from 50% in Q1. Among specialist contractors, 44% were working at or near full capacity in Q2, down from 48% reported during the fourth quarter of 2014 and 46% in Q1 2015.
Overall, construction cost rises have been kept muted by low global oil prices limiting rises in energy costs, but difficulties with the supply of labour mean that wage bills have been reported as the significant driver of construction cost inflation. Among large contractors, 57% of firms, on balance, reported labour costs were higher over Q2.
The quarterly survey is compiled by the Construction Products Association and brings together results that survey members of the Civil Engineering Contractors Association, Construction Products Association, Federation of Master Builders, National Federation of Builders, National Specialist Contractors Council and the UK Contractors Group. The latter two organisations have now merged to form Build UK.


Rises in output, workloads and sales were reported by large building contractors, SMEs, civil engineers and product manufacturers, highlighting strength across the supply chain.
SMEs and specialist contractors reported continued strength in enquiries in Q2, new orders were reported to have increased for civil engineers and product manufacturers were upbeat over the outlook for the next 12 months. However, this optimism was not shared by large contractors, who reported a decline in new orders across all construction sectors.
Commenting on the survey findings, Construction Products Association economics director Noble Francis said: "Continuing the trend since recovery emerged in mid-2013, growth in output was led by the private housing sector, in which 43% of firms, on balance, reported a rise in output.  Increased output was also reported in private commercial, the largest construction sector, where 18% of firms, on balance, reported rising volumes of offices and retail work.  Contractors reported a decline in repair and maintenance work in Q2, reflecting a drop-off in measures installed under government schemes to boost energy efficient in recent months.
"The £23bn R&M sector will undoubtedly be affected by this and the government's decision to close the Green Deal last month.  Contractors reported a broad fall in orders across all sectors in Q2, however, not just for R&M.  This will be countered to some extent by the fact that civil engineers, specialist contractors and SMEs reported an increase in new enquiries or orders in the quarter, whilst product manufacturers were upbeat over the outlook for sales."
Although labour shortages appear to have eased slightly, they remain a 'lingering concern', he said. "Nine quarters of rising construction activity and expectations of higher workloads over the coming year raise the issue of whether the supply of skilled labour will meet demand.  Half of contractors have already reported difficulties recruiting on-site trades such as carpenters, bricklayers and plasterers."
Suzannah Nichol, chief executive of Build UK (merger of UKCG & NSCC), said: "The outlook remains positive with building contractors enjoying rising output and almost half of specialist contractors looking at expansion in the next quarter. However, the impact of skills shortages continues to be felt, not least through increased labour costs. To overcome the difficulties the industry is facing in recruiting key trades, we need to focus on improving the image of construction and tackling apprenticeship reform."
National Federation of Builders chief executive Richard Beresford added, "Despite nine consecutive quarters of reported growth, and healthy order books, future growth is far from assured.  The severity of the skills shortage is such that the industry will see unsustainable rising labour costs or an increasing inability to deliver work.  Industry's efforts to address skills shortages cannot take effect soon enough."
Key survey findings include:
17% of building contractors, on balance, reported that construction output rose in the second quarter of 2015 compared with a year ago
Private housing output rose in Q2 according to 43% of building contractors, on balance
18% of building contractors, on balance, reported that private commercial output rose in the second quarter of 2015 compared with a year ago
9% of building contractors reported a fall in non-housing repair and maintenance output in Q2, on balance
9% of contractors, on balance, reported a fall in orders for housing R&M and 14% for non-housing R&M in Q2
Public housing orders decreased in Q2 according to 44% of building contractors, on balance
On balance, 43% of specialist contractors and 28% of SMEs reported an increase in enquiries in Q2
50% of building contractors reported difficulties recruiting carpenters, 49% for bricklayers and 45% for plasterers in Q2
57% of firms reported labour costs rose in Q2 compared with the previous quarter
Got a story? Email news@theconstructionindex.co.uk