The 32-tonne Range C460, with Aliweld insulated tipper body, has a factory-fitted extra axle adaption giving RH & AJ Bateman the manoeuvrability of a six-wheeler, but with the load capacity of an eight-wheeler.
Supplied by Renault Trucks South West, the Range C is the latest replacement for RH & AJ Bateman's 18-strong fleet and follows years of running Landers as well as C and T Range Cs in more recent years.
The new Range C Tridem, with lifting and steering rear axle, is used for a mix of traditional six and eight-wheeler work, delivering sand and aggregates to customers across the southwest, often in tight access locations.
"We went for the Range C as we've been really happy with both the service and performance from Renault Trucks," said director Russell Bateman. "The Tridem gives us extra load capacity, which helps with the profitability of our business and, crucially, it gives us better manoeuvrability and accessibility into more challenging places where an eight-wheeler would usually struggle – for example, accessing equestrian arenas at the back of properties."
He added: "The Tridem was a bit of an experiment for us as we've previously had a drawbar, but it's already been used for everything and been everywhere. It's performed really well and overall we've been really happy with the investment."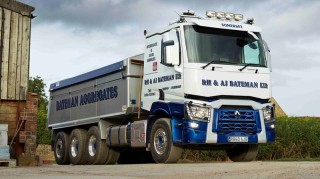 Got a story? Email news@theconstructionindex.co.uk