Christchurch-based John Reid & Sons Ltd (ReidSteel) is leading a consortium of businesses in the UK that have joined forces to help rebuild the Enis Adams Primary School, which was devastated by hurricanes Irma and Maria last year.
The company, which has exported to the Caribbean for more than 30 years, has rallied its suppliers to provide support free of charge, in kind or at a discounted rate to the total value of £35,000.
They are Tata Steel, National Tube Stockholders, Joseph Ash Galvanising, Euroclad, Ayrshire Metal Products, BAPP, Powell Gee & Co Ltd, Kestrel Liner Agencies and Meachers Global Logistics.
Main contractor in Tortola, Newton Construction with whom ReidSteel has worked for 34 years, is leading the construction work and will erect the steelwork.
Virgin Islands businessman Peter Haycraft, who was a longstanding client of ReidSteel with his former business Road Town Wholesale, has pledged US$1m of his own money for the school reconstruction to help the local community.
ReidSteel – whose specialities include disaster-resistant buildings – designed and manufactured the steelwork to withstand any future hurricanes.
Now four 40ft cargo containers full of steel work are being shipped across the Atlantic for the project on the island of Tortola, with three more to follow in the coming months.

ReidSteel commercial director Tim Cook said: "We have built strong personal and professional relationships over many years in the Caribbean. It was terrible to see the damage wreaked by the hurricanes last year so we're very grateful to Peter Haycraft for giving us the opportunity to help him give something back to Tortola. Our thanks to our suppliers and business associates who rallied around immediately. It is great to see the first shipment depart and we're looking forward to the school rising from the ashes."
Others involved in the project are architect AEMC Architectural Services, civil engineer AEC Consulting Engineers, Electrical Barry's Electrical Services, Reliable Plumbing, S&D Security and the British Virgin Islands Ministry of Education & Culture. 
Hesketh Newton, managing director of Newton Construction Co Ltd, said: "We have made good progress so far and the new school will really begin to take shape with the arrival of the steelwork. As a local family-owned business of 40 years, we're very pleased for the opportunity to give back by supporting this project."
Peter Haycraft said: "I have worked closely with ReidSteel and Newton Construction Co Ltd for many years. I am delighted that we are all able to do something for the community following the hurricane and look forward to the school children arriving on the first day of term."
The first ground has been broken for the reconstruction of the school, which is due to open in September 2019.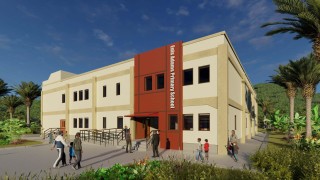 Got a story? Email news@theconstructionindex.co.uk