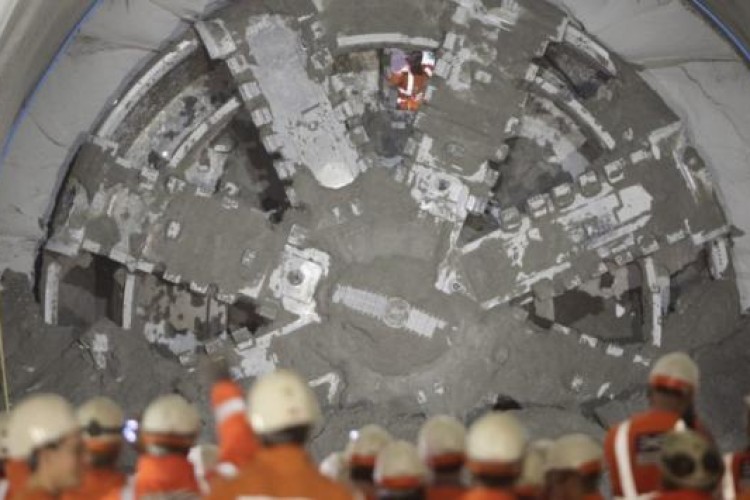 Crossrail's accident rate is reportedly running at more than four times that seen on the Olympic Park project, and there are allegations that workers are scared to report their concerns.
Ucatt says that a leaked safety report reveals "a culture of spying and fear" and that workers were "afraid to report [accidents] due to the likelihood of being laid off".
According to The Guardian newspaper, the safety report was compiled by independent consultant MindSafety, on behalf of the BBMV contracting joint venture developing two parts of the Crossrail project on sites at Whitechapel and Finsbury Circus.
The report says: "The intention of the client [Crossrail] is to get the job done safely, on time and with a healthy financial position on completion. The reality is that the methods used on-site are almost entirely counterproductive to this. The relationship between client and contractor seems to be strained almost to breaking point.
"A common theme throughout the visit surrounded the idea that the client was 'policing' the contractor – trying to catch them out at every turn. Reports of spying and underhand tactics came flooding to us."
Ucatt is now calling for both Crossrail, the client body, and its main contractors to take action. Ucatt general secretary Steve Murphy said: "This is a devastating report which shows the appalling state of industrial relations at Crossrail. This is clearly having a massive impact on safety and is placing workers in danger.
"Crossrail and its major contractors need to provide urgent answers about how this climate of fear has arisen. The client and the contractors need to sit down with Ucatt in order to ensure that morale and confidence is restored on the project to improve safety."
Safety concerns on Crossrail have increased following the death of Rene Tkacik on the project last month. Ucatt says that in 2013 there were a total of 39 reportable accidents on Crossrail with an accident frequency rate of 0.48 accidents for every 100,000 hours worked. By comparison, the rate on the Olympic Park which was 0.11 accidents for every 100,000 hours worked when that project was at its peak – although working below ground is inherently more dangerous than above ground.
Mr Murphy added: "The most disturbing part of the report is that it describes how workers are fearful of reporting accidents because they believe that if they do so they will be laid off. This demonstrates widespread problems throughout the construction industry where blacklisting and in particular the fear of blacklisting remains a real and credible fear for construction workers."

Ucatt regional secretary Jerry Swain added: "We are seeking a meeting with BBMV to clarify how consultation is undertaken with workers on safety and how Ucatt can be further involved in ensuring the project is delivered safely. Given previous problems, workers are more likely to speak to a union safety rep about safety concerns then go directly to management."
Ucatt also wants to know if the secret recording of workers is still going on. "Secretly filming workers is an infringement of their civil liberties," Mr Swain said. "Workers have a right to know when they are possibly being filmed, particularly when such footage is shown to employers."
Crossrail said that its RIDDOR reportable injury rate of 0.33 per 100,000 hours worked during 2013/14 was in line with other infrastructure projects.
Crossrail health and safety director Steve Hails said: "Crossrail has a good safety record and sets the most stringent contractor safety requirements in the industry. We require all our contractors to put in place honest and open reporting of all incidents however minor. Contractors are also evaluated on their workforce engagement. We're determined to drive up standards for the whole industry."
He continued: "Crossrail has worked closely with the Health & Safety Executive since the earliest stages of the project with dedicated HSE inspectors allocated to undertake regular inspections of Crossrail contractor sites. By pioneering new ways of approaching health and safety we want to leave a legacy that will help to make the construction industry safer, long after Crossrail is complete."
The contracting joint venture BBMV also issued a statement in response to the leaking of the MindSafety report. It said: "The report commissioned by BBMV 12 months ago does not reflect a poor safety culture at that time. The draft report only contained contributions from a limited number of people and was not sufficient to give a true and accurate reflection of our Whitechapel and Finsbury Circus sites. Safety at all our sites is of paramount importance and it is essential that we have an accurate understanding of individual perceptions towards safety and where improvements can be made to ensure that we deliver our contribution to the Crossrail project to the highest standards of safety possible."
It said that a follow-up report from the same consultants in November 2013 showed that there was a culture of continuous safety improvement on the BBMV Crossrail contracts.
BBMV JV comprises Balfour Beatty Civil Engineering, Morgan Sindall, Vinci Construction UK and Bemo Tunnelling.
Got a story? Email news@theconstructionindex.co.uk