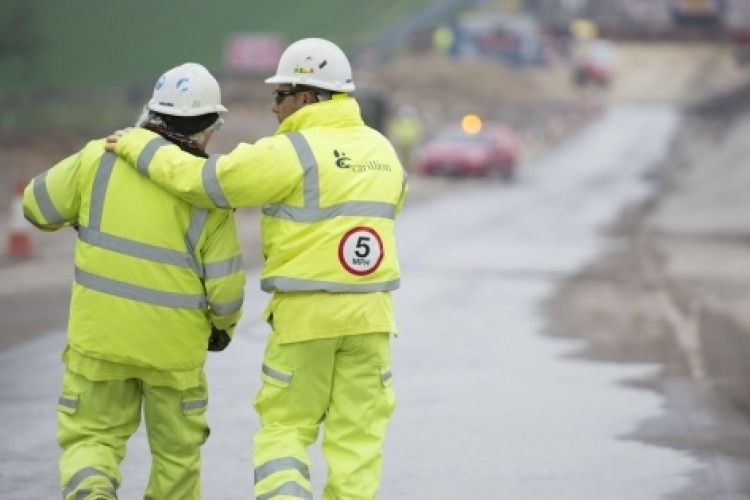 The TUC is also pressing for a risk assessment of other outsourcing firms, like Interserve and Mitie, which are enduring their own well-documented financial troubles that in both cases have led to changes in leadership.
TUC general secretary Frances O'Grady said: "We urgently need a national task force involving unions to safeguard jobs, services, and pensions. Workers can't be left at the back of the queue. Each and every worker at Carillion needs to know where they stand. They have bills and mortgages to pay, and deserve certainty on their future.
"And we have to ensure that there aren't more Carillions on the horizon. That means an immediate risk assessment of all large outsourcing firms with government contracts. Public services are already under pressure, and can't take another hit like this."
The TUC says the task force should bring Carillion's public-sector contracts back in-house and support the transfer of private sector contracts to alternative providers with jobs, pay and pensions protected.
It says there should be funding for a training and financial support package for at-risk workers and apprentices.
The TUC points to the example of the MG Rover task force, set up by the government and unions in 2005, following the collapse of the car company.


Meanwhile business secretary Greg Clark has written to the Insolvency Service and the Official Receiver asking that the statutory investigation into the conduct of Carillion's directors is fast-tracked and extended to former directors as well as those in post at time of collapse.
He has also asked the Financial Reporting Council to investigate Carillion's accounts, past and present, and its auditor KPMG.
Greg Clark said: "It is important we quickly get the full picture of the events which caused Carillion to enter liquidation, which is why I have asked the Insolvency Service to fast-track and broaden the scope of the Official Receiver's investigation.
"In particular, I have asked that the investigation looks not only at the conduct of the directors at the point of its insolvency, but also of any individuals who were previously directors. Any evidence of misconduct will be taken very seriously."
The business secretary also chaired a meeting this week (15th January) with construction trade bodies, representing Carillion's subcontractors: Represented at this meeting were:
Build UK
Civil Engineering Contractors Association
British Constructional Steelwork Association
Building Engineering Services Association
Federation of Master Builders
Construction Products Association
Electrical Contractors' Association
Specialist Engineering Contractors Group
Federation of Small Businesses
British Chambers of Commerce
Institute of Directors
Got a story? Email news@theconstructionindex.co.uk