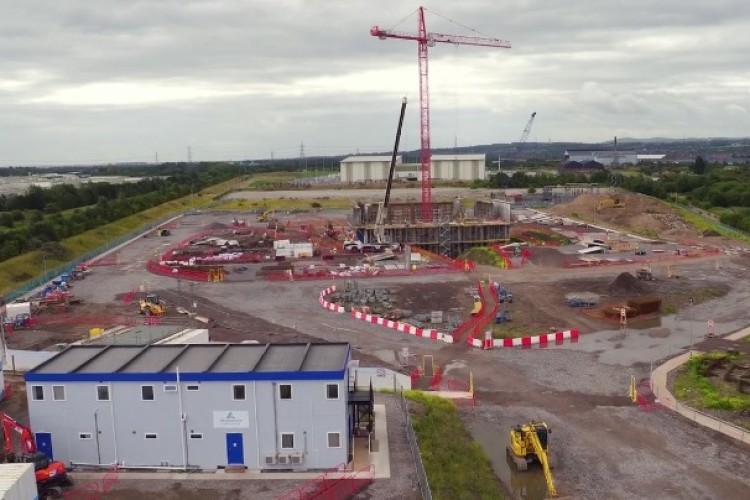 Unite and GMB are campaigning for union recognition on the £800m waste to energy plant being built by that French company CNIM at Parc Adfer Deeside.
The unions say that workers are being exploited and being paid below relevant industrial agreements. They say that CNIM has refused the unions access to the site and has refused to ensure that workers are paid via the National Agreement for the Engineering Construction Industry (NAECI) on their project.  
Ultimate client for the project is the North Wales Residual Waste Treatment Partnership, comprising five Welsh local authorities (Flintshire, Isle of Anglesey, Gwynedd, Conwy and Denbighshire). The unions are also pressing council leaders to intervene but to no effect so far.
The partnership awarded US waste firm Wheelabrator a 25-year public-private partnership contract in 2014 to build and operate the 16.6MW (net) plant. Clugston is also in the construction team, but it is CNIM and the councils that are the focus of the unions' ire.

Unite national officer for construction Bernard McAulay said: "We will not stand idly by and allow construction workers to be exploited. It is reprehensible that the client, which comprises five local councils, is prepared to allow workers to be exploited on their project.
"If the councils and CNIM don't take action then we are putting them on notice that concerned workers will be stepping up their protests early next year."
GMB national officer Phil Whitehurst added: "CNIM and the Flintshire conglomerate of local authorities are hiding behind minimum standard legislation in the Parc Adfer construction process. This is not only a betrayal of the highly skilled local and national labour pool – it ensures that the lowest bidder wins the contract at the tendering stage, no matter what their past record is with regards to safety and terms and conditions offered to the prospective workforce.
"This ultimately encourages spurious employment methods such as zero hours contracts, under the guise of bogus self-employment, and agency labour. This race to the bottom is unacceptable and CNIM and its paymasters have firmly got the cross hairs of civil unrest trained on them."
Got a story? Email news@theconstructionindex.co.uk