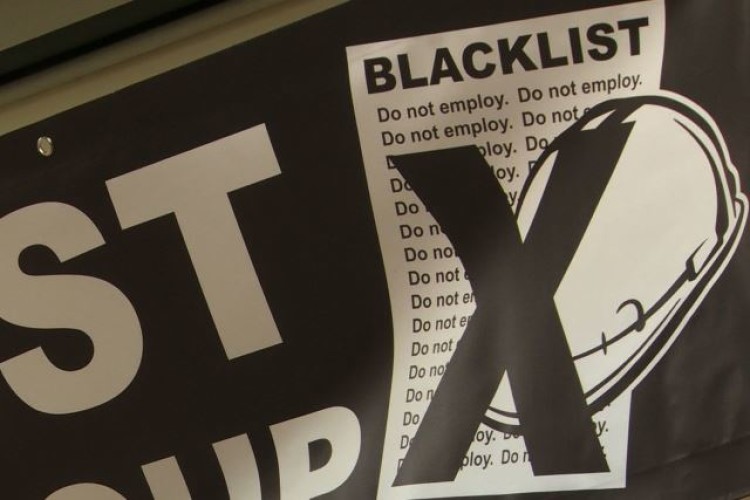 But unions are saying that blacklisted workers are better advised to join the ongoing legal action rather than accept a pay-off.
TCWCS has issued a call north of the border to all those worked in construction anytime up to 2009 inviting them to contact the scheme's administrators to find out whether they are entitled to financial compensation.
The scheme was launched on 4th July (see previous report here) to pay compensation to those who suffered financially from being on the illegal construction industry blacklist run by the Consulting Association until it was closed down in 2009 after a raid by the Information Commissioner for breaching data protection legislation. Most major contractors used and contributed to the blacklist.
Eight of them – Balfour Beatty, Carillion, Costain, Kier, Laing O'Rourke, Sir Robert McAlpine, Skanska UK and Vinci – have admitted culpability and are offering compensation of between £4,000 and £100,000 to blacklisted workers.
The Consulting Association held the names of around 3,000 workers. According to figures published by the GMB union, there may be 574 people in Scotland who are eligible for compensation.
However, the GMB union is advising people that if they were blacklisted they stand to make much more by waiting for the outcome of litigation rather than settling for a fast-track pay-off.
A spokesperson for TCWCS said: "We are encouraging anyone in Scotland who worked in construction in the years leading up to and including 2009 to contact the TCWCS freephone helpline or look at the website for further information - we are really keen to find as many people as possible who are eligible for compensation, so do get in touch. Or if you know someone else who worked in construction, please encourage them to pick up the phone to us or log onto www.tcwcs.co.uk to find out whether they are eligible for compensation. Enquiries to the scheme are handled quickly and, if you are eligible, joining the scheme is completely free of charge. TCWCS is even covering the cost of independent legal advice for every eligible applicant to help them decide whether the scheme is right for them."

But GMB national officer Justin Bowden said: "Most people blacklisted by the construction companies behind TCWCS stand to win many times more from the courts. Therefore they should not be fooled by the cut price compensation on offer and should see it for what it is, a damage limitation publicity stunt."
Law firm Leigh Day, acting for GMB, began action in July in the High Court in London seeking compensation for 122 GMB members blacklisted by Carillion and the other firms. GMB's claims are joined with a further 449 claims by two other unions and one other party.
As part of the group litigation order, the four parties including GMB were given permission to write to all those blacklisted. The ICO has until 25th August to give Leigh Day  the addresses.
"Once we have the addresses we will be writing jointly to everyone," Justin Bowden said. "When we write to all those blacklisted we will tell them that one purpose of the scheme is for the companies involved to avoid High Court litigation. We will urge workers to get in touch with their current or previous union for advice first."
He added: "TCWCS does not mention that compensation in their scheme is capped, does not include damages for misuse of private information, and does not involve the companies giving any information about how they were involved in blacklisting. None of these restrictions are found in court."
He concluded: "GMB has a simple message to anyone on the blacklist: get free legal advice from us or your union before you make any decisions. The companies should get serious and make proper restitution and close the book on this shameful chapter."
Got a story? Email news@theconstructionindex.co.uk