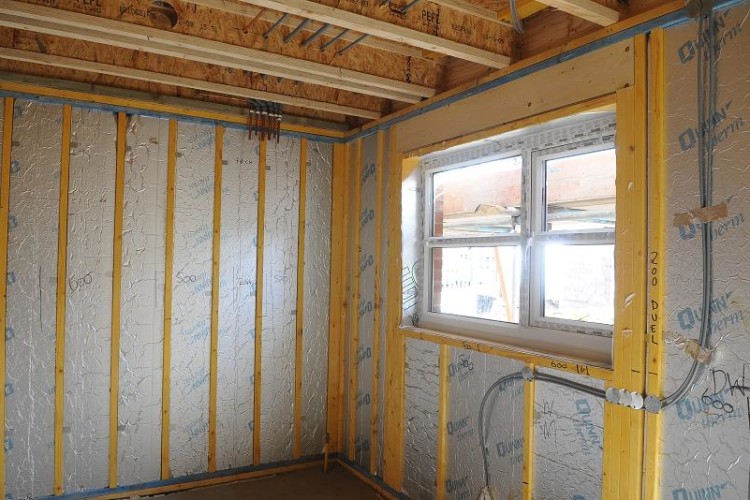 In cassette format supplied by Oregon Timber Frame, the Finnjoist floor was delivered to site with pre-drilled service holes.
With MVHR technology integrated into many new build homes, it is crucial to select building materials that are able to cope with the associated loading that the equipment will require. Working closely with Oregon Timber Frame, Finnforest was able to deliver a pre-fabricated floor cassette system that could meet these needs.
Richard Jarvis, Business Development Manager from Oregon Timber Frame Ltd, commented, "From the outset we decided to use solid timber I-Joists, rather than those manufactured with a metal web, as we required a material that would be strong enough for the intended purpose, yet relatively lightweight. Working with Finnforest and the M&E supplier, it was possible to pre-drill 125mm holes into the joists ready for the services to be fed through on site, all without the need to make additional structural changes."
He continued, "Thanks to this collaborative approach, we were able to supply the site with a set of pre-manufactured floor cassettes that allowed the whole house MVHR system to be simply fitted through the floor void, speeding up the installation process, whilst providing the strength required to hold such a system."
Finnjoists were specified to provide a stable basis for the flooring system. As a fully engineered timber I-Joist product it can be used to form the key component of structural systems, the Finnjoist was ideal for use in the Rotherham housing project, delivering advanced levels of strength and durability.
The Finnjoist itself is constructed with an OSB web held in place by two Kerto LVL flanges. The inherent strength of Kerto, a product that is manufactured exclusively by Finnforest, lies in its layers of high quality laminated timber veneers. Due to its manufacturing process, Finnjoists offer a strength to weight ratio that can deliver lighter, longer spans with quick and simple installation, helping to reduce on-site building schedules.
Kevin Riley, Head of Building Systems for Finnforest, commented, "Constructed entirely from engineered timber, Finnjoists offer far greater strength to weight and rigidity capabilities than an open web joist manufactured with a central metal web due to its continuous, uninterrupted structure. As such, the Finnjoist is ideal for use in the construction of a floor system, as it is sturdy enough to bear the weight loading from above without any additional support. The customised Finnjoists used on the Rotherham project offered an advanced level of strength combined with the convenience that is normally only associated with a metal webbed joist."
Got a story? Email news@theconstructionindex.co.uk