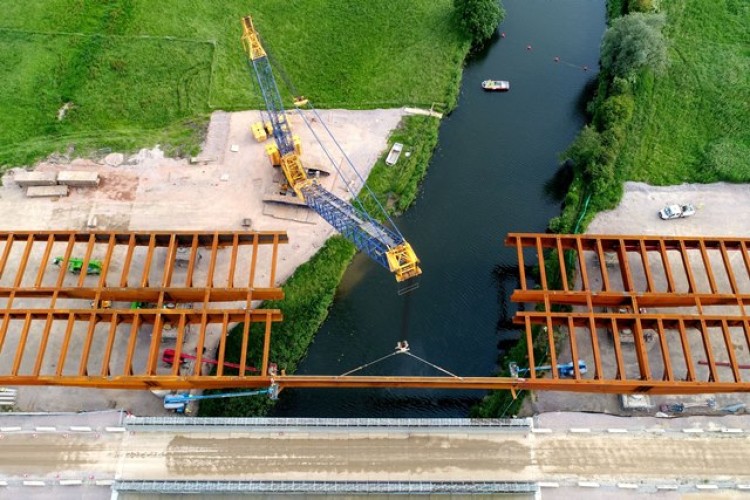 Cleveland Bridge was contracted by the A14 Integrated Delivery Team (IDT) to design, fabricate and install a 750-metre viaduct spanning the river and a large area of bordering flood plain on each bank.
Containing 6,000 tonnes of steel and comprising 76 separate main girders and 800 cross girders, the structure was fabricated at Cleveland Bridge's production facility in Darlington. Component parts were transported to site by road over several months.  The majority of the main girders are 40 metres long, two metres deep and weigh 50 tonnes.
The section of the bridge crossing the river has the longest span, at 39 metres, so a complex series of girders has been installed to carry the weight of the greater load.

To enable the installation of the structure, including the most recent viaduct sections, a temporary platform was constructed under the length of the new bridge to provide a solid base for cranes and lorries.  But to reduce time and site congestion, Cleveland Bridge used a 600-tonne crawler crane that could lift all components for each section of the bridge from a single position at the side of the bridge.  This meant fewer crane movements and no need to move the crane across the bridge footprint.
Managing director Chris Droogan said: "The River Great Ouse viaduct is a showpiece element of the A14 project and is worthy of its place as one of Cleveland Bridge's most significant structures in our history.  It is also an excellent example of the ingenuity of our designers, engineers and the highly collaborative relationship our site team has with our client on the project.
"The viaduct will have a major impact on improving this part of the UK road network and we are very proud to have played a part in its development." 
Got a story? Email news@theconstructionindex.co.uk