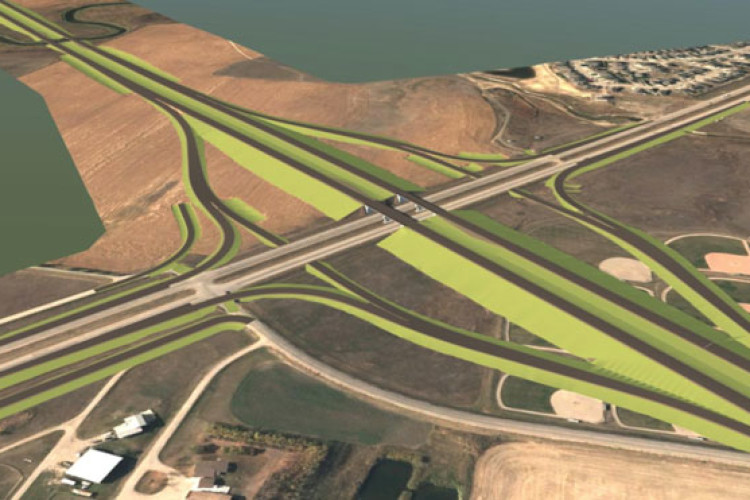 The highway will be built under a public-private partnership (PPP) contract with a term of 30 years (link opens in new tab). It will be the province's first transport infrastructure project to be built as a PPP. The Vinci-led team was named as preferred bidder in June (link opens in new tab).
Regina Bypass Partners is a (37.5%) subsidiary of Vinci Concessions, in partnership with Parsons Enterprises (25%), Connor Clark & Lunn GVest fund (25%) and Gracorp Capital (12.5%). Its contract is with the Saskatchewan Ministry of Highways & Infrastructure.
The project, which represents a total investment of approximately CA$1.9bn involves the design, financing, construction, operation and maintenance of the 61km dual two-lane bypass. It includes 37km of new construction, 24km of renovation work and 12 interchanges, together with their access roads and 38 structures, for a total of approximately 400 lane-km.
The construction works will last about 4 years. It will be carried out by Regina Bypass Design–Builders, a joint venture consisting of Carmacks Enterprises  (18.75%) – a wholly-owned subsidiary of Eurovia - Vinci Construction Terrassement (18.75%), Graham Infrastructure (37.5%) and Parsons Canada (25%). After construction is completed, the motorway will be operated and maintained by Regina Bypass Operations & Maintenance - a wholly owned subsidiary of Vinci - for a period of 30 years.
Regina Bypass Partners will receive payments during the operating period based on availability of the highway infrastructure.
Got a story? Email news@theconstructionindex.co.uk