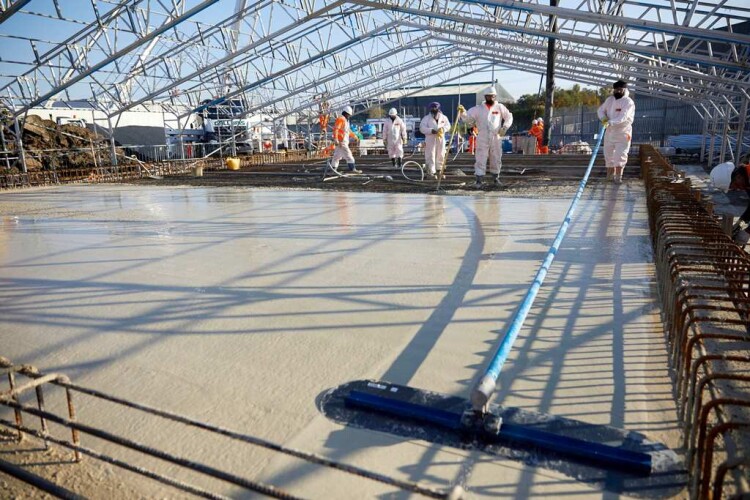 Civil engineering contractor Taylor Woodrow, part of the Vinci group, conducted the first UK pour of Exegy concrete at the Edmonton EcoPark.
The pour took place on EcoPark South, the first phase in North London Waste Authority's plans to create a £1.2bn waste management and energy-from-waste plant at the existing Edmonton EcoPark. By including slag as an ingredient, the mix used on the project reduces the carbon footprint by up to 70% when compared to traditional concrete.
Under a £100m contract, Taylor Woodrow is building a new Resource Recovery Facility, a public recycling centre, a temporary bulky waste facility and a visitor centre as part of the project.
The Exegy concrete includes Ecocem Ultra cement, developed by Vinci Construction and Irish materials supplier Ecocem, with material input from Cemex. It has previously been used in France – on a pilot site of the Grand Paris Express, in the construction of the Athletes' Village in Paris for the 2024 Olympics, and in the port of Le Havre – but not in the UK before.

Ecocem managing director Micheál McKittrick said: "Our Ecocem Ultra technology is already being used at scale in France, and we're excited to now see it being adopted in the UK."
Nerissa Patel and Alex Mitchell, project managers for Taylor Woodrow, added: "Ultra-low carbon concrete is a key factor in our journey towards carbon neutrality and this marks an exciting step towards achieving it." 
The video below is from Soletanche Bachy, Vinci's foundations division, on the first use of Exegy in France last year.
Got a story? Email news@theconstructionindex.co.uk