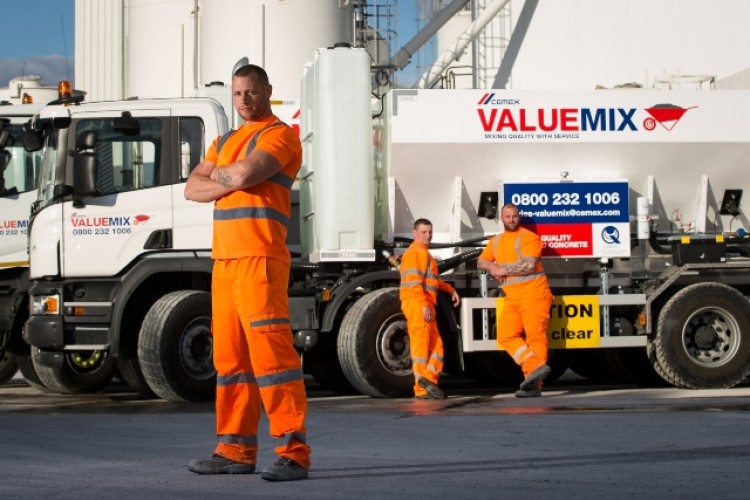 There is a growing trend in the UK market to supply materials from volumetric vehicles. Cemex says that an estimated 10% or the market, or two million cubic metres of the readymixed concrete a year, is now delivered by volumetric mixers.
A volumetric mixer is an HGV that carries the individual materials in separate bins required to make concrete such as cement and sand and mixes them at the customer's site.
Ready-mixed concrete truckmixers, by comparison, are HGVs fitted with rotating drums which carry and deliver concrete which has already been mixed to the customer.
Historically, through a loophole in regulation, volumetrics have been able to operate under the classification of 'engineering plant', like mobile cranes, and have therefore been able to avoid significant regulations required of HGVs for safety and related purposes. There are much lighter regulatory requirements for engineering plant than for HGVs, for example:

However, not all operators exploit these loopholes. Cemex says that its volumetric mixer fleet meets, and works to, the legal requirements of large good vehicles rather than engineering plant.
Cemex Valuemix was started just over a year ago with just one vehicle, and was the 'first' of this type of service in the northwest. Two more new volumetric concrete mixers have begun operation this month from Cemex Altrincham concrete plant.
Cemex says that there are benefits to certain customers in volumetric mixers. They can deliver quality assured concrete and mortars from as little as 0.5m3 for a small path or paving up to 8m3 for large building projects.
Cemex Valuemix lead driver Ian Leadbetter says: "The service is creating a lot of interest with loads being delivered as far afield as Northwich in Cheshire, Bolton in Lancashire and of course, all of Greater Manchester. Customers using Valuemix order and pay for exactly the amount of concrete they need and many ask for our 'barrow and lay service', in other words a free helping hand to lay the concrete wherever the customer needs it."
Got a story? Email news@theconstructionindex.co.uk