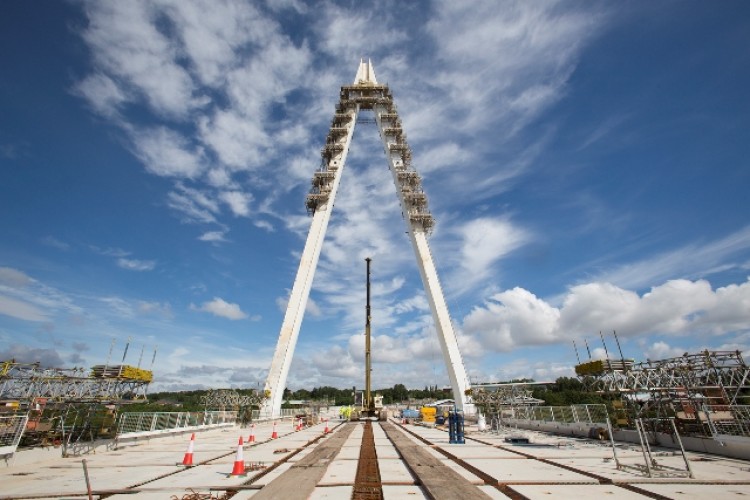 The £120m New Wear Crossing is on track to be complete and open to the public by the spring of 2018, improving the links between the A19 and the city centre and Port of Sunderland.
FVB, the main contracting joint venture of Farrans Construction and Victor Buyck Steel Construction, has subcontracted cable installation to Bouygues subsidiary VSL International, which will install 28 cable stays over the summer.
Each cable stay will be contained inside a white protective plastic tube. The tube will be installed first and then a number of wire strands threaded through to form the stay cables.
Each tube will contain between 45 and 85 individual strands, depending on its position on the deck. Each strand will be the diameter of a penny and will have the capacity to lift seven tonnes – the equivalent of a fully-grown African elephant.
That means that a tube containing the maximum 85 wire strands will have the capacity to lift 595 tonnes.
Before the cables can be installed, however, the 674 concrete panels on the deck, which will form the basis of the road, must be joined together.

The team is currently pouring concrete into the joins between the panels. This will stitch the precast concrete deck panels together and connect them to the steel deck frame that supports them. Once the stitching on the south side of the deck is complete, the cable installation can begin.
Work is also continuing to assemble the remaining 40 metres of bridge deck on the north side of the river, which is due to be complete later this summer and will bring the deck to its final span of 330 metres.
FVB project director Stephen McCaffrey said: "Work is progressing really well, but there is still a lot to do, so we have a very busy summer ahead.
"Our priorities now are stitching the concrete panels together on the deck, completing the remaining piece of bridge deck, and then installing the cables. Finishing the major roadworks on both sides of the river is also a priority. We appreciate the inconvenience they cause.
"We are into the final third of the project, but there are still some major tasks ahead. We have put a lot of time and effort into planning, and we have an incredible team working on the project, bringing together international, northeast and local expertise, so we don't envisage any problems ahead."
Got a story? Email news@theconstructionindex.co.uk