The ZX870LCR-5 is an 86-tonne excavator with a six cylinder 397kW Isuzu engine.
Walters Group purchased the machine off the Hitachi stand at the Hillhead trade show last month, where it was the largest excavator at the exhibition.
"The Hitachi ZX870LC-5BE is an impressive piece of equipment and its excellent reputation for fuel economy, reliability and productivity were all factors that influenced our decision to make the purchase," said Walter managing director Huw Richards.  "In addition, we have operated large size Hitachi machinery in the past and have been impressed by the residual values and HCMUKs strong support network."
The machine will be going to its first job at Heysham in Lancashire where it will be removing approximately one million cubic metres of material for a new link road from the M6.  The project includes the remodelling of junction 34 along with a new bridge across the river Lune and is expected to be open to the public by the summer of 2016.

The new ZX870LCR-5 incorporates the HIOS IIIB hydraulic system, which allows for faster operation with lower fuel consumption, and increased front speed. It claims increased productivity by 6% in H/P mode compared to the previous Zaxis model. Swing torque has also increased by 9% and the speed of light-load operations such as grading has improved, thanks to a larger volume of hydraulic flow.
The 'R' series specification gives extra durability with reinforced components and added protection to strengthen the undercarriage and front attachment. Wear-resistant steel buckets have been designed specifically for handling hard and abrasive materials.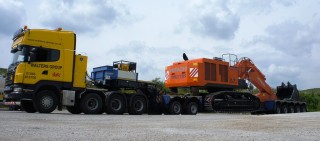 Got a story? Email news@theconstructionindex.co.uk