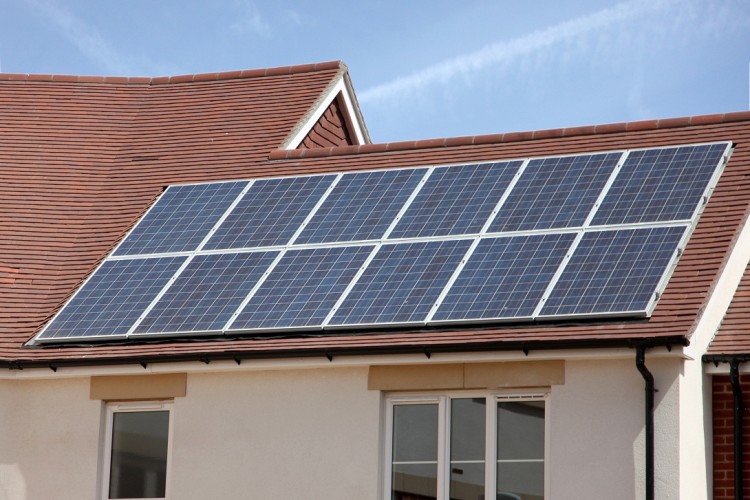 Some 362,000 homes in the UK have installed solar panels since April 2010, approximately one roof in every 70.
Analysis by environment & engineering consultancy WSP shows London has ranked lowest in the country for uptake.  London boroughs make up 23 of the 25 bottom ranking authorities.
WSP said that its study of solar uptake shows that despite concerns solar panels would be just for the rich because of high upfront costs, location is actually a far stronger factor, even more so than sunshine levels.  Affluence appears to be a weak factor only in determining installation rates.
Dumfries & Galloway, parts of Herefordshire and parts of Devon showed above average panel installation (one out of 40 roofs) but have some of the lowest per capita income.  The Orkney Islands  have similar levels of installation despite sunshine levels that are far below those in southern England.
The strongest indicator for panel installation was, in fact, rural vs urban living.  Installation rates in London, the Welsh Valleys and in the West Midlands lag far behind more rural areas in mid Wales and Cornwall and this was consistent across the UK.
Director David Symons commented: "While we might think that cities should be happy hunting grounds for solar sales, in reality houses in towns are smaller, their roofs are more likely to be obscured and there's also less owner occupation.  Flats and apartments also have more than one household, but only one roof.  In contrast, houses in the country tend to be larger and have more space, so it's more economical to put a panel on a roof in the country than in the city.  What seems clear is that - when combined with biomass, anaerobic digestion facilities and wind - there's an increasing trend for the countryside to be the renewable power station of the city."
Solar panels have been heralded as a success story for green energy in the UK but the reality is that even in the most popular areas for installations, 93% of households have no panels installed and in the lowest installation areas, such as Westminster, there are virtually no solar panels.
Mr Symons added: "If solar panels are going to be one of our green energies of the future our analysis shows there's a lot more work to do.  Poorer performer housing associations have to be highlighted, there needs to be more trust in energy companies and installers and, ultimately, panels have to become more efficient and cheaper."
Installations per 10,000 households
Source: ONS April 2013
Top 10

Bottom 10

1

Mid Devon

787

371

Hackney

20

2

Wrexham

552

372

Greenwich

18

3

South Hams

476

373

Camden

17

4

North Somerset

451

374

Newham

17

5

South Cambridgeshire

445

375

Southwark

15

6

South Norfolk

430

376

Hammersmith and Fulham

12

7

West Oxfordshire

420

377

Kensington and Chelsea

11

8

Isles of Scilly

413

378

City of London

8

9

Monmouthshire

409

379

Tower Hamlets

8

10

Torridge

402

380

Westminster

4
| | | | | | |
| --- | --- | --- | --- | --- | --- |
|   | London Boroughs | Households | Domestic solar panel installations | Total solar panel installations | Installations per 10,000 households |
| 1 | Waltham Forest |                95,632 | 915 | 940 | 96 |
| 2 | Bromley |              133,821 | 736 | 755 | 55 |
| 3 | Havering |                99,760 | 491 | 511 | 49 |
| 4 | Richmond upon Thames |                80,123 | 390 | 407 | 49 |
| 5 | Kingston upon Thames |                63,701 | 294 | 308 | 46 |
| 6 | Croydon |              142,512 | 581 | 604 | 41 |
| 7 | Sutton |                79,122 | 302 | 319 | 38 |
| 8 | Bexley |                94,871 | 341 | 415 | 36 |
| 9 | Harrow |                85,563 | 295 | 303 | 34 |
| 10 | Redbridge |                98,869 | 337 | 341 | 34 |
| 11 | Ealing |              121,117 | 378 | 393 | 31 |
| 12 | Merton |                79,465 | 235 | 263 | 30 |
| 13 | Barnet |              135,506 | 393 | 406 | 29 |
| 14 | Hillingdon |              103,653 | 297 | 308 | 29 |
| 15 | Brent |              100,177 | 282 | 300 | 28 |
| 16 | Lewisham |              113,592 | 305 | 324 | 27 |
| 17 | Barking and Dagenham |                70,606 | 187 | 198 | 26 |
| 18 | Hounslow |                92,946 | 241 | 262 | 26 |
| 19 | Haringey |                88,037 | 228 | 254 | 26 |
| 20 | Islington |                81,368 | 202 | 215 | 25 |
| 21 | Enfield |              118,292 | 264 | 291 | 22 |
| 22 | Lambeth |              115,801 | 244 | 261 | 21 |
| 23 | Wandsworth |              121,177 | 243 | 273 | 20 |
| 24 | Hackney |                90,429 | 179 | 191 | 20 |
| 25 | Greenwich |              100,721 | 185 | 191 | 18 |
| 26 | Camden |                80,587 | 141 | 147 | 17 |
| 27 | Newham |                98,606 | 167 | 182 | 17 |
| 28 | Southwark |              122,249 | 178 | 189 | 15 |
| 29 | Hammersmith and Fulham |                69,708 | 83 | 91 | 12 |
| 30 | Kensington and Chelsea |                67,557 | 71 | 74 | 11 |
| 31 | City of London |                  4,738 | 4 | 7 | 8 |
| 32 | Tower Hamlets |              102,798 | 79 | 85 | 8 |
| 33 | Westminster |                94,484 | 39 | 49 | 4 |
|   |   |   |   |   |   |
|   | Source: ONS, 2103 |   |   |   |   |
Got a story? Email news@theconstructionindex.co.uk