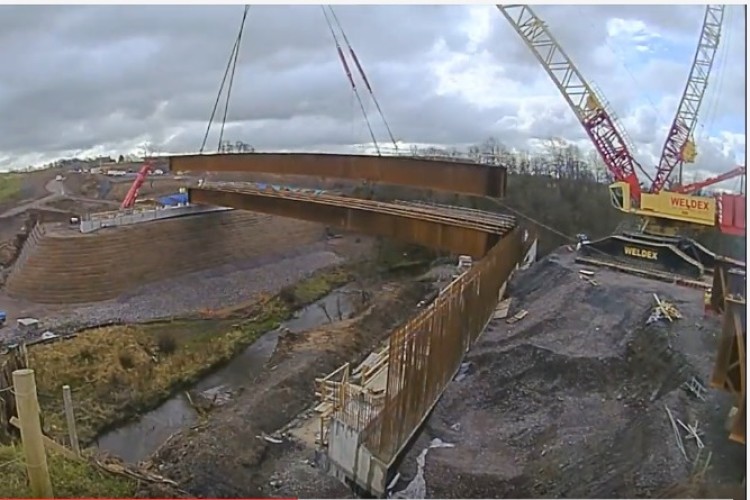 The video, below, shows nine pairs of three-metre high steel beams, approximately 77 metres long and each weighing almost 2,000 tonnes, being lowered into position over the North Calder Water, near Bellshill in North Lanarkshire.
Crane hire firm Weldex deployed the biggest crawler crane in the country for the job, its 1350-tonne capacity Liebherr LR1350.
The construction of North Calder Water Bridge is part of major works to upgrade Shawhead Junction. The new bridge will carry traffic on the new M8 over the North Calder Water to the south of the existing A8.
As one of the widest structures of the project at 77.25 metres, the new bridge will carry three lanes of traffic in each direction, alongside new on and off-slip roads, linking the M8 to the A725 both north and southbound.
The project is being carried out for Transport Scotland by Scottish Roads Partnership (SRP) and its construction joint venture, Ferrovial Lagan.


Articulated lorries brought the beams to site in three sections to comply with transport restrictions. Once on site, the sections were welded together before the beams were paired for lifting.
Weldex's crane delivered to site by a fleet of 33 HGVs and took five days to assemble on site, using a 750-tonne and a 200-tonne crane to assist. Once assembled, the crane stood 90 metres high.
Dario Saavedra, construction manager for Ferrovial Lagan Joint Venture, said: "This is a significant milestone for the project and a successful operation which we are very proud of. The beam installation took nine days to complete, lifting the giant beams onto the two new bridge abutments, each of which contain over 6000 tonnes of reinforced concrete.
"The beam lift was a complex piece of engineering and an important step towards completion of this impressive project."
Lyle Cairns, section site engineer, has overseen the progress of the new structure. He said: "The first excavation for the bridge began in summer 2015 and it is scheduled for completion in September of this year.  The beam lift was very exciting to be part of as this was a challenging engineering operation, however, from a personal point of view; it's pleasing to see the entire construction from start to finish. The most challenging aspect of this structure was the sheer scale and size involved."
Got a story? Email news@theconstructionindex.co.uk