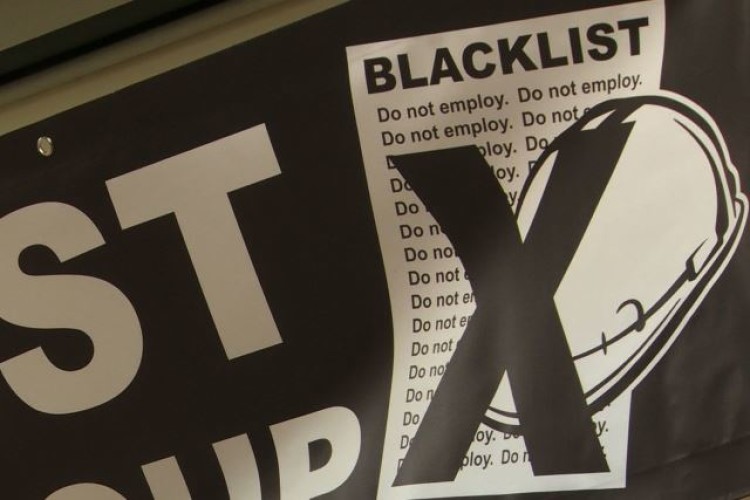 The GMB union has called for help tracking down the blacklisted workers following the announcement by eight major contractors that they have set up a The Construction Workers Compensation Scheme in an attempt to pay back for the damage they have caused to individuals' lives. [See previous report here.]
In June 2013 GMB lodged claims in the High Court in London seeking compensation for 70 of its members blacklisted by Carillion and other construction companies. Many others have yet to be tracked down.
The union says that fewer than 15% of the 3,214 people on the blacklist are aware that their names are on it.
Blacklisting came to light in 2009 when the Information Commissioners Office (ICO) seized a Consulting Association database used by 44 companies to vet employees.
See the table below for where the blacklisted workers come from.
GMB has access to some information on names on the blacklist and is seeking help to assist in identifying and locating all 3,214 so that they get compensation. If you think you might be on the list or want further help, call Phil Read at GMB on 07840 897997 or email him blacklisted@gmb.org.uk.
Blacklisted workers –

number in each area

Location

Number on the blacklist

Location

Number on the blacklist

Aberdeen City

14

Kent

95

Aberdeenshire

54

Kingston upon Hull

62

Anglesey

3

Lancashire

60

Angus

5

Leeds

53

Argyll & Bute

7

Leicestershire

5

Bath and North East Somerset

1

Lincolnshire

13

Bedfordshire

4

Manchester

183

Berkshire

2

Merseyside

173

Birmingham

69

Midlothian

3

Bristol

25

Monmouthshire

9

Buckinghamshire

20

Norfolk

7

Cambridgeshire

12

North Ayrshire

67

Cardiff

10

North Lanarkshire

22

Ceredigion

9

North Yorkshire

12

Cheshire

64

Northamptonshire

14

City of London

454

Northern Ireland

1

Clackmannanshire

3

Northumberland

7

Cornwall & Isles of Scilly

3

Nottinghamshire

12

Cumbria

27

Orkney Islands

1

Denbighshire

34

Oxfordshire

8

Derbyshire

16

Perth & Kinross

2

Devon

19

Powys

2

Dorset

8

Redcar and Cleveland

43

Dumfries & Galloway

6

Renfrewshire

15

Dundee City

21

Rhondda Cynon Taf

2

Durham

11

Rhondda, Cynon, Taff

3

East Ayrshire

18

Rotherham

56

East Lothian

1

Shropshire

2

East Riding of Yorkshire

16

Somerset

5

East Sussex

8

South Lanarkshire

16

Edinburgh, City of

52

Southern Ireland

1

Essex

57

Staffordshire

16

Falkirk

35

Stirling

7

Fife

24

Suffolk

9

Glasgow City

140

Surrey

32

Gloucestershire

32

Swansea

15

Gwynedd

12

Tyne & Wear

69

Hampshire

50

Warwickshire

1

Hereford & Worcester

3

West Dunbartonshire

8

Hertfordshire

14

West Lothian

12

Highland

15

West Sussex

11

Inverclyde

26

Wiltshire

5

Isle of Wight

1

Wokingham

10
Got a story? Email news@theconstructionindex.co.uk