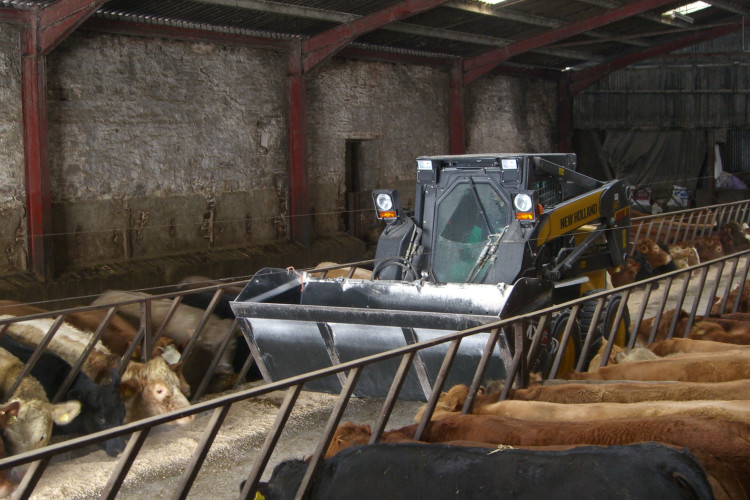 Maurice Hourston and his son, Michael, of Brae of Montgrew farm, near Keith in Aberdeenshire, were inspired to buy the new skidsteer after struggling to find a machine suitable to carry their new auger feeding bucket to feed their herd of 150 prime beef cattle.
The family's existing machines, including a tractor and a loader backhoe, were too wide to fit in the byre. Yet while the machine had to be narrow enough to fit into the confines of the cow shed, it also had to be powerful enough to wield and operate the feeder bucket.
The answer came in the form of the New Holland L185B, which measures only 1.8m wide yet weighs in at 3.2t and has a maximum power output of 61kW. This means that although it is small enough to fit comfortably between the cow stalls, it also has enough power to handle the 600kg auger feeder bucket.
"We used to have to feed the cows by hand," explains Maurice. "We used to have to spread eight to ten bags of barley twice a day, and we used to have to fill the bags manually as well. That's about 1.5t per day by hand."
Now the L185B, which can lift 1,150kg to full height, is used to carry over half a ton of barley in one load and feeds the cows in only a couple of minutes. "I'm not so fit as I used to be, and this has been a big save," says a still-agile Maurice.
The decision to take the construction machine was something of a gamble. "We didn't know if it would do the job before we got it, nobody knew, but now it's working out perfectly," says Michael.
In fact, the Hourstons quickly discovered that the combination of compact size and considerable power is not the machine's only virtue.
"It's got good power and good hydraulics. It's also very important to be able to go slow enough not to scare or bang into the cattle, and the hydrostatic drive is excellent, much better than the gears on the tractor, as I can feather the speed to almost nothing, so there's no danger of banging into anything," Michael adds.
According to Michael this degree of control is enhanced still further by the fact the machine's movements are controlled entirely from joysticks. "It's a very natural process that is very easy to pick up, and once you've picked it up it is very easy to use effectively."
This control and manoeuvrability, along with the L185B's power, also makes the machine ideal for moving bales around the farm. "It can get into places we'd never have dreamed of getting into with a machine," says Maurice.
Then there's the use of a quick hitch attachment that has also allowed the Hourstons to make the most of their existing array of attachments. This includes a silage cutter and grab, and the combination of this and a high enough tipping point enables the skidsteer to not just cut the silage but also feed it into a hopper for distribution across the farm.
"We use it for 101 different things," Maurice adds, pointing to its use for mucking out one of the small byres that has not been cleaned by mechanical means since the demise, ten years ago, of an old and very narrow tractor. "It's small, and then there's the fact it's a skid so it turns in its own length."
It has also replaced the farm tractor for patching the road. "It's better because you sit looking at the bucket, so you can see exactly where you are," explains Michael. "With the tractor and the digger you're sitting away from the bucket."
Even the Arctic cold of one of the harshest Scottish winters for years has not posed a problem as the Hourstons were persuaded of the merits of taking a machine with a cab heater and door. "I was worried that it might break easily and be inconvenient, but you just make sure you have the bucket fully lowered and it's not a bother to get in and out," says Michael. "It gets quite cosy in there, and I wouldn't like to do too much work without a door now."
The family is also considering purchasing a rotating brush to help keep the yards clear and continue making the most of having such an already busy and versatile machine. From not even knowing if the machine would do the one job for which it was purchased, the New Holland L185B has now become an essential workhorse for a range of activities across the farm.
New Holland L185B fact box:
Operating weight:                      3.2t
Operating capacity:                   1,134kg
Max power:                               61kW
Ravenhill Construction (www.ravenhill.co.uk) is the New Holland construction dealer for Grampian, the Highlands and Moray. It is also distributor for Merlo and NC construction products. It's headquarters are in Elgin, and it has depots in Aberdeen, Peterhead, Turriff and Dingwall. 
Got a story? Email news@theconstructionindex.co.uk