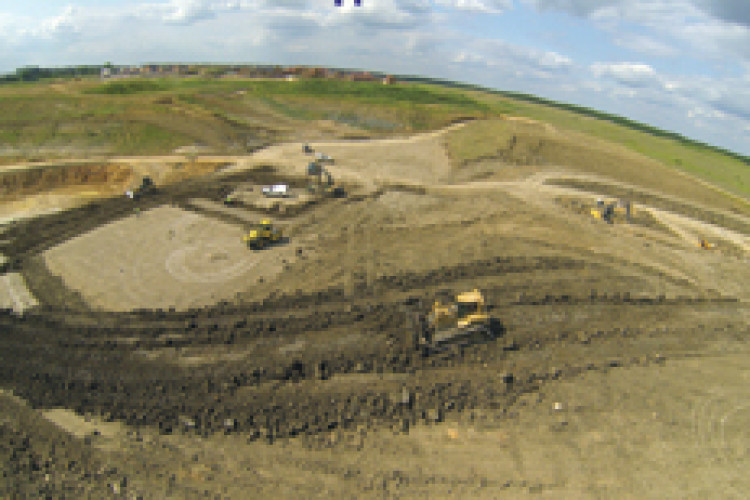 The past month may have seen a continuation of the general stream of upbeat news for the construction sector, but not even a prospering UK economy could hide the negative impact of the last of the terrible winter weather. The Office for National Statistics reported that output in February fell by 2.8% compared to January. Longer-term trends were slightly more positive as figures for the three months to February were 0.3% better than the previous quarter. Even the rampant house builders suffered, as new registrations dipped by 10% year on year.
But things have clearly picked up again after the deluge. Underlying demand pushed construction sector business optimism in March to the highest levels since January 2007, as the Markit/CIPS Construction Purchasing Managers' Index reached 62.5.
Volumes of new work rose in March for the eleventh consecutive month and Barbour ABI reported that the value of contract awards rose 25% year on year.
The rapid improvement in the industry is producing a rash of positive results from quoted contractors and other players. Inevitably, the charge is being led by house builders boosted by the Help to Buy scheme.
Persimmon announced forward sales up 35%, while Bellway's first-half profits soared 73%. Block paving supplier Marshalls saw profits rise 40% in 2013; steelwork contractor Billington returned to profit and started 2014 with the strongest order book for five years; and building materials giant Wolseley reported its fifth consecutive quarter of rising UK revenues.
The ongoing upturn in the UK is being matched by equally encouraging statistics from our near neighbours. In Ireland the new order intake in March 2014 pushed the Construction Purchasing Managers' Index sharply upwards from 56 in February to 60.2 in March. Construction production edged up by 0.1% across the whole of the EU in February.
The impact of this gentle commercial glow can be seen clearly in the jobs market. One recruitment site, CV-Library, reported that construction posts advertised had leapt by 118%, while RICS predicted that wage rates would rise across the sector by 3% in 2014-16 and by 4% in 2017-18. Nevertheless, construction workers are still being paid 13.4% less than before the recession in real terms.
The companies we have analysed for this month's report are those site preparation contractors with turnover of £3m or more in their latest published accounts. Companies House records show that there are 1,313 UK-registered companies claiming that their principal activity consists of site preparation work. Even by setting the turnover cut-off point as low as £3m per annum, this has still only produced a small sample of just 30 companies, which confirms that this is yet another highly fragmented sub-sector.
The Company Watch research reveals a level of profitability for the sector of 5.4%, which lags well behind the level of 15% earned by plant hire companies, 13% by road builders and 10% by house builders. However, it beats the much more marginal figures of other sub-sectors such as demolition contractors (3.8%), commercial builders (3%), M&E contractors (2%) and those specialising in the utilities and water sectors (also 2%).
The commercial trade-off between risk and reward varies widely across the construction industry, particularly when profits and borrowing levels are compared. Average gearing is 41% for the 30 site preparation contractors. As our sector comparison table shows, this makes them more conservatively financed than plant hirers and scaffolders, but more highly geared than house builders, road builders and especially M&E contractors and utilities/water contractors.
A significant percentage of the sample (23%) have no external borrowings at all. On the other hand, our earthmoving contractors make a healthy average return on capital of 27%, beating every other sector analysed so far, with the exception of road builders who earn an impressive 52%. The overall financial health of our sample is analysed using the Company Watch health rating – the "H-Score" – which is based on the interaction between seven key financial ratios involving profitability, funding and asset management.
The H-Score processes published financial information through a mathematical model which compares this data with the characteristics of companies that fail and those that survive. This produces an H-Score out of a maximum of 100.
As a quick reminder, a score of 76 or more identifies a business that is in rude health. Anything between 51 and 75 suggests that the company is on a sound financial footing while a score between 26 and 50 indicates a company which is financially off colour.

Those which have scores of 25 or below are in the Company Watch warning area indicating abnormal financial vulnerability. Over the past 15 years, a very high percentage of UK companies that filed for insolvency or underwent a financial restructuring were in this warning area at the time. Companies with a score below 25 aren't necessarily destined to fail and can often be turned around by strong and effective management action. But it is a clear indication of increased financial risk for their clients, suppliers and service providers alike.
Looking at the profile of the 30 site preparation contractors on this measure, their average H-Score is 52, which is well above the norm of 45 for all UK companies of a similar size. Their manageable levels of debt contribute to this reading, while there are also no companies with negative net worth (i.e. with liabilities greater than assets). This average H-Score ranks above three sectors and below the other five we have analysed to date for The Construction Index.
Only four (13%) of the sample are in the Company Watch warning area, pretty much in the middle of the range shown by our sector comparison table. Nevertheless this is a good outcome, given that across the economy as a whole the expectation would be that around 25% of any similar sample would be in this financial twilight zone.
Nevertheless, we note that there is an unusually high concentration (47%) of companies in the marginal quartile just above the warning area, suggesting that any sustained downward trend in performance could be problematical for them. Just three of the companies are loss making.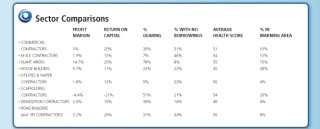 The results of our research are certainly encouraging; especially in terms of a clear lack of companies that could be classed as financially vulnerable. However, it is essential to put the outcomes in context; they cover only a limited number of major players in a market dominated by hundreds of family-owned SMEs, which are generally under-capitalised.
Many struggle with the financial disadvantage of relying on powerful main contractors, a good many of whom still cannot resist the temptation to abuse their supply chains. The finances of these small subcontractors should be viewed with caution, notwithstanding improving trends across the construction sector and the good news that nine leading contractors have now signed up to the prompt payment Construction Supply Chain Payment Charter agreed by the Construction Leadership Council.
As we have warned previously, companies that have drawn heavily on their resources during the recession often struggle to raise the extra working capital needed to fund growth as trading improves. Insolvencies invariably peak between 15 – 18 months following the start of a sustained recovery.
This effect is likely to be particularly marked as we move towards the second half of 2014, both because of the unusual length of this last recession and because the financial services sector was so badly affected by poor lending practices.
To compound the problem, the banks themselves are struggling to cope with the fallout from numerous mis-selling scandals for which they are liable to pay compensation and fines. With so many lenders having to put their own finances in order and finding themselves with less money to lend, they are now far choosier about which borrowers they will help to expand. This is bad news for small firms across all construction sectors.
But there is no doubt that the construction sector is on a sustained upward curve at last and the good news is that site preparation is a core element of so much activity in the industry. Downward pressure on tender pricing remains an issue, but the future looks far rosier for those site preparation contractors who have the self-discipline to resist the temptation to be busy unprofitable fools.
This article first appeared in the May 2014 issue of The Construction Index magazine, which can be viewed in full at: http://epublishing.theconstructionindex.co.uk/magazine/may2014/
While the magazine is free to view online, a subscription is required to receive you own hard copy every month. This can be purchased for just £35 a year at http://www.theconstructionindex.co.uk/magazine
Got a story? Email news@theconstructionindex.co.uk