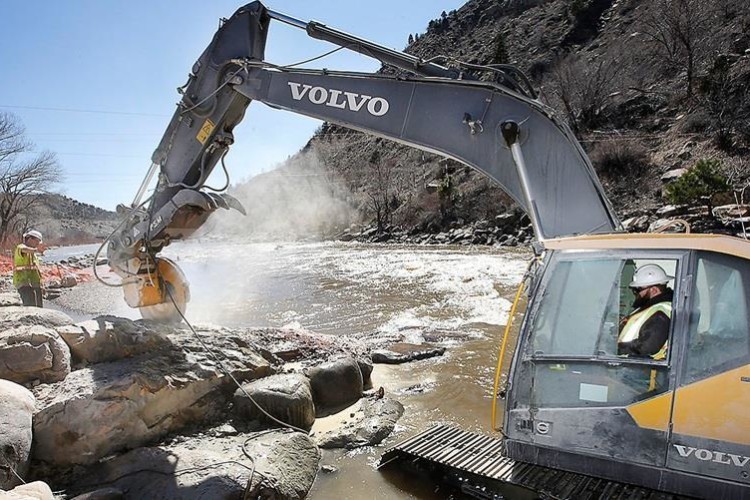 Whinnery Construction has deployed the excavators in the Animas River, near the city of Durango, Colorado. Tourism the leading driver of Durango's economy; one of the attractions is the Durango Whitewater Park.
The park is situated along the Animas River, a 203km section of the Colorado River System. The river runs through the city of Durango and is one of the top whitewater stretches in the US, with flow rates ranging from 200 to 6,000 cubic feet per second.
In winter 2014, improvements were made to create waves and holes to enhance the Durango Whitewater Park. However, the features created were powerful and difficult for the average river users to enjoy during periods of high flow. To provide an easier passage for recreationists and improve the fish habitat, the Durango Whitewater Park is undergoing a US$60,000 (£46,000) renovation to widen and lower the existing structures. Much of the work was carried out in February and March but high river flows delayed the remainder of the renovations. The park remains open while renovations are ongoing.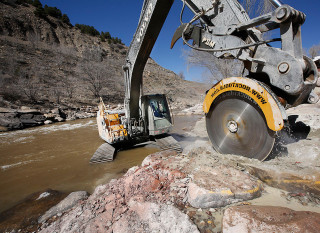 Whinnery Construction who was given the task of turning two of the four whitewater structures in the permanent whitewater park. This includes trimming the rocks, firmly secured in concrete. Designer of the work is S2O Design.

To meet the demands of the site, Whinnery Construction and S2O Design turned to Volvo Construction Equipment. The larger excavators (EC250D and EC300E) are specified with the proportional two- pump flow, offering greater control for precise and fast operations. Other features work to ensure the work is carried out quickly and efficiently. "We use a thumb attachment to stack the rocks," said Stan Whinnery, owner of the contractor. "When you have a four tonne rock on the end of the boom, with a crewmember making sure it's sited correctly, you need a powerful, stable machine. Or, if you are using a rocksaw making a six millimeter (¼ in.) wide cut through one meter (36 in.) thick rock, the precision has to be perfect."
"On an average river restoration project, we will use three-foot-diameter rocks, weighing around 2.5 tonnes," said Whinnery. "When you are dealing with 12,000 individual rocks for a project, it becomes a logistical issue. We use Volvo articulated haulers to transport the rocks from the source sites to the job site. We try to stay in the 30 tonne truck range because they get around easier on softer ground but can haul the heavy loads."
Much of the terrain we are on is demanding on an excavator. "We have some unbelievably steep river banks, up to 72% grade, and the Volvo climbed right up," said Whinnery.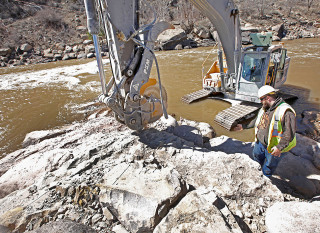 Got a story? Email news@theconstructionindex.co.uk