A closer inspection of the site in Raynes Park, southwest London, confirmed work was taking place on and around the roof of a three-storey building without any measures in place to prevent or mitigate a fall.
Peter Alexander Ross, 55, of Putney, was prosecuted this week by the Health & Safety Executive (HSE) as the principal contractor and construction manager for the work.
Westminster Magistrates' Court heard that Mr Ross part-owned the site and was overseeing a project to replace former shops on Coombes Lane with a new-build mixed-use complex.
An HSE inspector first spotted unsafe work in August 2013 as he passed by on a train. He got off at the next station and headed straight for the site. Once there, he immediately served a prohibition notice to suspend work at height until safety measures were in place.
However, the same inspector making the same train journey less than two months later witnessed near identical activity. He again got off the train and visited site before issuing two further notices.


The court was told that although nobody was injured at the site, the fall risk was significant. As the designated principal contractor and person in control of the work, it was Mr Ross's responsibility to ensure sufficient safety measures were in place.
Peter Alexander Ross, of Beaufort Close, Lynden Gate, SW15, was fined a total of £16,000 and ordered to pay a further £1,200 in costs after pleading guilty to single breaches of the Work at Height Regulations 2005 and the Construction (Design and Management) Regulations 2007.
After the hearing, HSE inspector Mike Gibb said: "Peter Ross was the client for the project and appointed himself as the principal contractor. As such the onus was on him to ensure effective safe working methods and procedures were in place.
"The work at height activity we witnessed was inherently unsafe, and the fact we twice had to stop work at the site just weeks apart is shocking. As a dutyholder he failed to learn, and he clearly wasn't up to standard."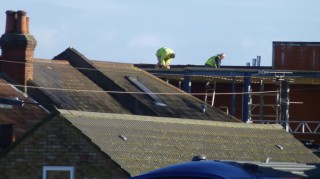 Got a story? Email news@theconstructionindex.co.uk