The Italian-made Terex Comedil crane was one of three put up by Bouygues on a high-rise housing development site in Greenwich, southeast London.
Storm Katie caused the raised jib of the crane to topple backwards over the counter jib. The steelwork buckled but the jib did not break clean off, nor did the crane itself fall over.
A police spokesman said that police were called at around 1.50am on Easter Monday (28th March 2016) to reports of a broken crane on a building site in Greenwich.
Investigations are likely to centre initially on whether the crane had been left to weather vane freely while out of use, as tower cranes are meant to. A Bouygues spokesperson said: "Our full investigation is underway – however we are not making any assumptions at this stage."
The £20m design and build scheme for Family Mosaic at Creek Road will provide 83 new homes. Completion is expected by the end of 2016.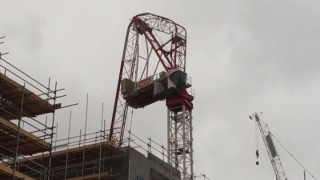 Got a story? Email news@theconstructionindex.co.uk