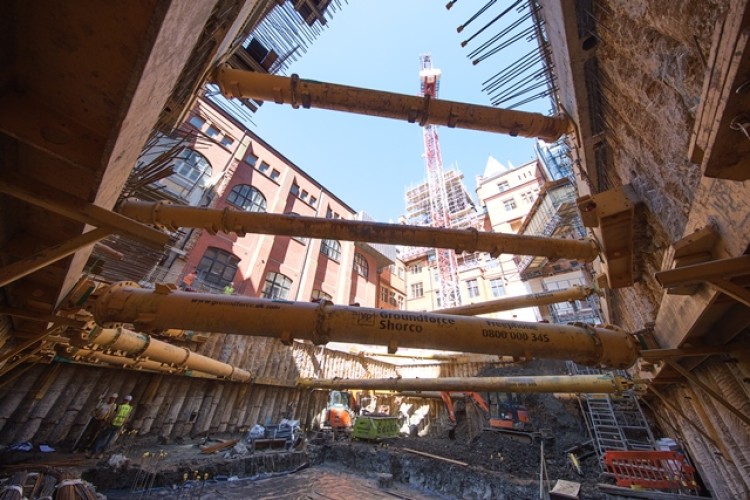 The new wireless system, known as FlatMesh from Senceive, uses wireless nodes with the Groundforce load pins, which pass their signal from one to another. This means that only one of the nodes needs to have clear contact with the 3G gateway module for all readings to be taken. Not all the load pins need to have direct line of sight with the 3G gateway module, as was the case with previous monitoring systems.
One of the first projects to use the Senceive system was the redevelopment of the Royal College of Music (RCM) in South Kensington, which includes the construction of an extension in the college's central courtyard.
The location was inaccessible – hemmed in on all four sides by existing buildings – and sensitive to disturbance. The RCM encloses three sides of the site; the fourth is occupied by Imperial College.
"We are building a seven-metre-deep basement to within one-and-a-half metres of the existing buildings," explained project director Ciaran Begley of main contractor Gilbert-Ash.
Gilbert-Ash approached Groundforce for design help at the early tender stage and awarded it a £120,000 subcontract for structural support contract, having won the £22m main contract.
Groundforce supplied its Mega Brace hydraulic waling beam to support the concrete secant-piled retaining wall, bracing the excavation with M50, MP125, MP150 and MP250 modular hydraulic props.
Due to the complete absence of ground-level access, all the equipment had to be craned in over the RCM building, which was protected against possible damage with a crash deck supported by a scaffold structure.


A reinforced concrete capping beam was cast on top of the pile caps before excavation commenced; all the arisings from the excavation were removed on a special conveyor system that ran through the building to the street where it was loaded into trucks and carried away.
As the excavation progressed, the Groundforce equipment was craned in and installed. Two levels of support were required; the upper level was braced against the capping beam; the lower level against the Mega Brace waling beam.
Vertical support for the props was provided by conventional gallows brackets on the upper level, but the lower level gallows brackets were found to clash with the intermediate slab:
"We therefore used eye nuts to replace gallows brackets," said Groundforce sales engineer Nadir Salim. "These were drilled into the capping beam and restraint chains were slung down and attached onto the Mega Brace."
The loading on the support structure had to be continuously monitored throughout the excavation process. Senceive's FlatMesh system monitored the loads impinging on the hydraulic struts, alerting the construction team to any changes that could indicate unwanted movement in the ground or surrounding structures.
As it was, the design and execution of the basement construction went without a hitch.
"Groundforce were really, really fantastic. They helped us from the pre-qualification stage right through to completion of the basement," said Ciaran Begley. The piling and propping were top priority from day one."
Got a story? Email news@theconstructionindex.co.uk