The W50 Ri and W60 Ri represent a new generation of small milling machines from the German manufacturer that has been in development for three years.
The new Level Pro Plus levelling system, developed in-house, is fully integrated in the machine control system to produce precise and high-quality milling results, Wirtgen says. The pre-set target value for the milling depth (max. 210 mm for both models) is controlled by displacement sensors in the hydraulic cylinders mounted on the side plates and displayed on the Level Pro Plus display.
The manufacturer claims that the new machines are the fastest cold milling machines in their class. They have been designed with a small turning circle for working on cramped job sites, while an automatic tracking function on the rear inner wheel when folded in also increases manoeuvrability. In the four-wheeled version the front wheels are offset by 15cm to travel in line when the steering wheel is turned to the right. The wide front wheels minimise the surface load exerted by the machine, reducing wear. The new steering and driving dynamics package enables speeds of up to 12 km/h in the four-wheel version. The higher travel speed translates into faster project completion, Wirtgen deduces.

The round milling drum assembly, coupled with innovations in the milling drum, side plates, scraper blades and gradation control beam, make milling faster and simpler and produce a higher quality result, it is claimed.
The large conveyor slews 30° to both left and right for discharge material. The hydraulically operated folding discharge conveyor, up to 5.6m long and 350mm wide, can be folded up on cramped job sites or for transport. Compact quick-change coupling for the hydraulic connections aids the assembly and disassembly of the discharge conveyor, Wirtgen says.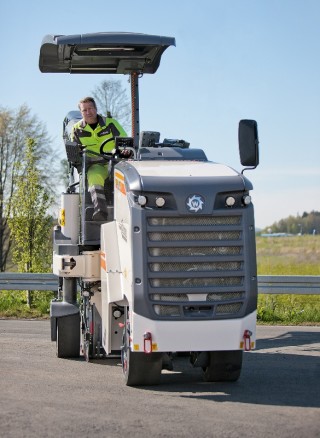 Got a story? Email news@theconstructionindex.co.uk