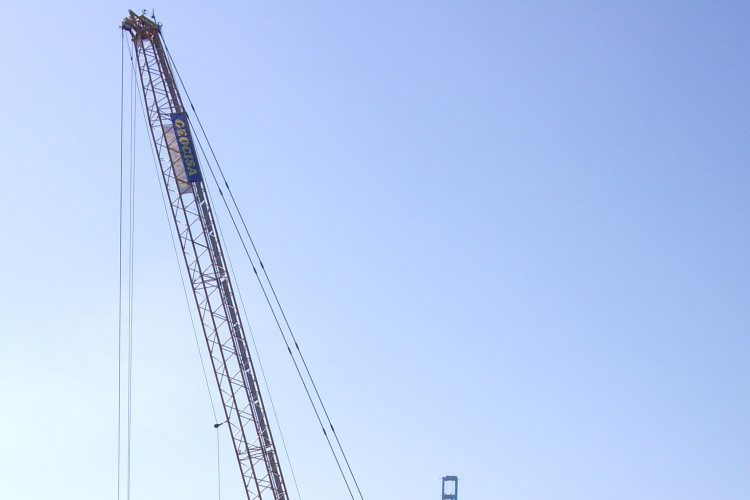 The work completed by the JV in the first two phases prepared the way for 106ha of new port space. In the latest phases 3 & 4 a quay wall has been widened to facilitate a new oil pipeline and the sea bed has been prepared for the construction of a new fuel vessel berth.
This is the fourth time that the companies have joined forces on this port, although it is the first phase where the BBGE name has appeared. During the previous phases Pennine, which has now been amalgamated into BBGE, was part of the JV.
During the final two phases of work the team used the Aquacaster system to install a total of 2,538 stone columns. The system is a specially adapted version of BBGE's HD150 vibroflot with a large capacity hopper attached at the top to enable use in underwater marine stone column construction. The HD150 is one of the most powerful vibroflots available, allowing the treatment of marine ground that other ground improvement contractors' equipment would not be able to penetrate.
The marine vibro stone column method provides an extremely cost effective solution for caisson quay wall projects. The columns ensure that there is no movement in the caisson wall, they improve the baring capacity of the sea bed and limit settlement.
During the installation process the Aquacaster is attached to a crane and is operated from a barge. The Aquacaster is penetrated into the seabed and is continuously fed with stone. As the Aquacaster is removed the stone is compacted to form a column.
"This is a fast effective system which avoids the need for dredging which is both expensive and environmentally harmful", says David Rickson BBGE international contract engineer. 
Rickson continues: "During this project BBGE and Geocisa battled against the extreme weather conditions to install the world's deepest bottom feed marine columns – 30m. The JV relationship on this port began in 2004 and our experience at Algeciras, coupled with our relationship with the client FCC Construccion S.A, meant that we have been able to carry out our forth phase of work extremely effectively, even with the constraints of working in a live shipping lane, the swell of the sea and the extreme weather conditions." 
Got a story? Email news@theconstructionindex.co.uk