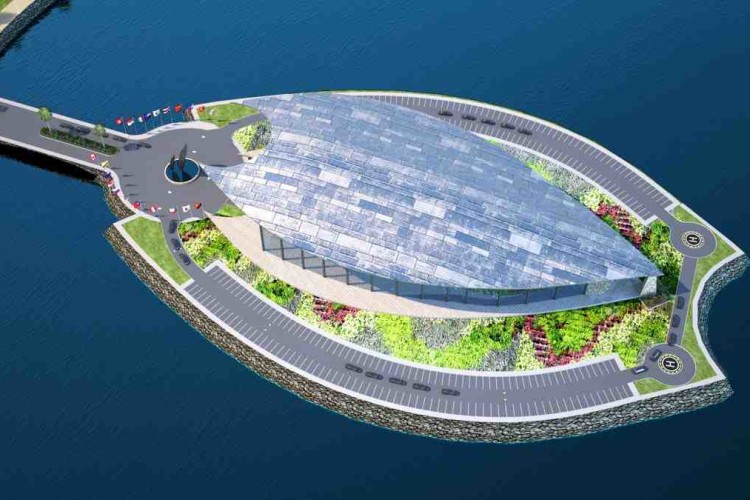 PNG's prime minister Peter O'Neill CMG MP welcomed the groundbreaking at the site of the new building. "In 2018 we will welcome the leaders of the other 20 APEC countries to APEC Haus," Neill said. The building will be the focus of global attention during APEC, and will be a national icon that will be used by generations of Papua New Guineans in the decades ahead, he said. "The design of the building is based on the shape of a lakatoi sail and will showcase the sailing tradition of our people," he added.
APEC Haus is being undertaken by Oil Search through a tax credit scheme that was approved by the National Executive Council. The building will have two levels on an island that is being reclaimed just off the foreshore.
Neill said that PNG's hosting of APEC will deliver a number benefits for the nation in several areas. "While the focus of the APEC meetings is policy development, for Papua New Guinea this will be a chance to showcase our country and our economy to the rest of the world. Across the Asia-Pacific and around the world people will learn more about Papua New Guinea, our culture and tradition, and the investment opportunities in our country."

After APEC the building will serve a number of purposes, including hosting functions such as weddings and musical events. It will have shops and restaurants, and will likely have a museum of national artefacts.
"The room where Leaders meet will likely be kept in place after the meeting and become a tourist attraction in itself and host board meetings and other events," said Neill. "In other countries where they have kept their meeting table people love to come and sit in the same seat and desk where the American,Chinese or Russian President sat."
The final cost of the building is in the process of being estimated and engineering designs are finalised, but the cost will be absorbed by Oil Search through the tax credit scheme. A similar approach has been used previously on projects including the National Rugby League Stadium. "I would like to thank Oil Search for partnering with the Government on this project to build Papua New Guinea's APEC Haus," sais Neill. "We have worked very well in the past with Oil Search to build national infrastructure and this has had a favourable outcome for all parties. The people of the nation have not had to put the cost of the building up front, and Oil Search has once again demonstrated its strong commitment to building our nation."
Got a story? Email news@theconstructionindex.co.uk