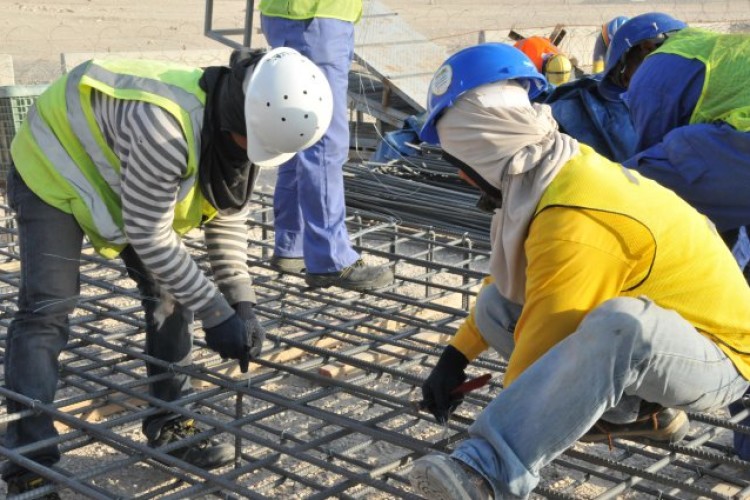 Trials of hand-held wire-tying machines have been carried out on construction sites in Qatar to cut down on repetitive strain injuries on migrant workers building stadiums for the 2022 World Cup.
It is hoped the devices will stop people from developing upper limb disorders brought about by repeating the same twisting action thousands and thousands of times to keep steel wiring in place.
This is just one of the measures being introduced after widely reported issues with health & safety in Qatar.
The tiny Gulf state also plans to introduce measures to help prevent workers from developing hand arm vibration syndrome (HAVS) from excessive power tool use.
Qatar has 800,000 migrant workers in its construction sector, around 35,000 of which are being used to build eight stadiums for the 2022 tournament. It is bringing in safety measures to head off criticism – by Amnesty International, among others – over the conditions of its migrant labour force.
It has already committed itself to a raft of reforms to end the abusive kafala sponsorship system by which workers from South Asia come to the Middle East for work.
It has now published the results of a nine-month investigation into workplace safety by Qatar's Supreme Committee for Delivery & Legacy, and Building & Wood Workers' International (BWI), a global union. Between February and November 2017 the two groups carried out 13 inspections at stadium construction sites and workers' accommodation facilities.
Some recommendations made by the Joint Working Group were based on practical, common sense. For example, many signs in the accommodation units were in Arabic, despite 90% of the workforce coming from India, Nepal and Bangladesh and so not understanding them. The report recommended: "Ensure adequate translations are available for all ethnic groups represented onsite."
There were also calls for better medical training for on-site staff and for more serving counters to speed up the time it takes for workers to get their lunch.
And there were moves to improve the complaints system among a workforce whose cultural background means they are generally unaccustomed to making a fuss. As a result of the changes, complaints went up by 320% between August and December 2017.
"The term 'Workers' Welfare Forum' did not resonate with the workers and is not fully understood," said the report.  "This is primarily due to the unfamiliarity of the term 'forum' amongst workers from India, Nepal and Bangladesh (approximately 90% of the workforce)."
Managers introduced 'Awareness Sessions' in batches of 50 to 100 workers for 15-20 minutes, resulting in the huge spike in complaints.

Elections were also introduced for workers' representation on committees and rooms provided for meetings to be held in.
There were also improvements following complaints about workers having difficulty transferring money to relatives due to long queues at exchange houses and ATMs.
Thanks to a new app developed by Commercial Bank they can now transfer their money to families back home using their smartphones, saving them on average two hours a week queuing, which often had to be done on days off.
Every month 16 million Qatar Riyals (£3m) is transferred to home countries.
Last year it was announced that cooling helmets were being trialled for workers having to operate in severe heat during summer months.
A Supreme Committee for Delivery & Legacy (SC) spokesperson said: "In 2017 the SC engaged with a renowned safety training experts called Qatar International Safety Centre (QISC) to address a number of issues relating to the health and safety of our workers, including occupational health. We have spent the last six months developing a comprehensive training plan that will eventually be rolled out to all workers on SC projects.
"During the assessment and planning any work activity, risk assessments are completed that identify if a particular hazard is present and what controls need to be put in place to reduce the risk following the normal risk reduction hierarchies. Operations where HAVS have been identified are included in this risk reduction process.
"Part of this agreement includes a training plan to deal with occupational health. This is under development with a pilot course scheduled to take place by the end of February.
"Furthermore, the SC has trialled a hand-held wire-binding or 'knot machine' for steel fixers to minimise the need for workers to manually perform tasks associated with their job, where upper limb disorders have been identified as a risk. We are assessing the impact of this trial before deciding whether to roll out on a larger scale.
"Since partnering with QISC, 536 workers have received workers' welfare induction training to introduce them to the benefits of the course."
About the author: Anthony Harwood is a former foreign editor of the Daily Mail
Got a story? Email news@theconstructionindex.co.uk