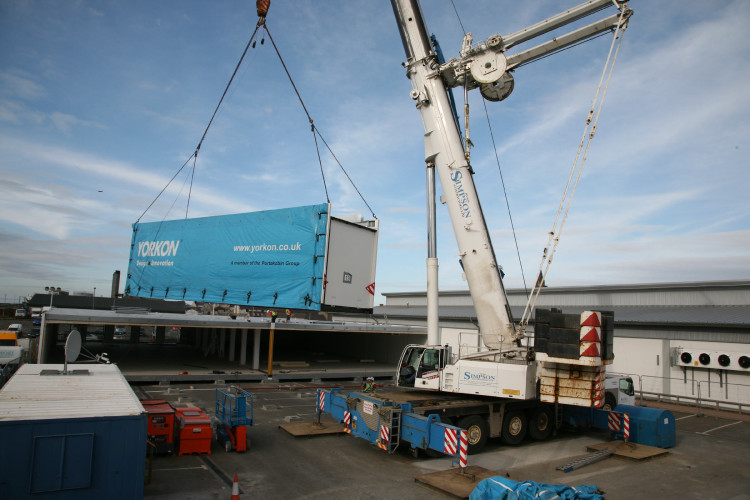 Off-site construction specialist and Portakabin subsidiary, Yorkon, has completed its most northerly building project – a new interim supermarket for Tesco in Kirkwall, the capital of the Orkney Islands.
The project involved delivering 26 purpose-built supermarket modules by road from the Yorkon production centre in York to Aberdeen, where they were transported by sea in three shipments to the cargo terminal in Kirkwall.  A 500-tonne crane was then used to install the building modules on site in only three days, ready for the final stages of fitting out, stocking and commissioning of the store.
Working closely with main contractors Barr Construction, Yorkon was able to reduce the build time on site to just three weeks, minimising any disruption to Tesco customers.
The interim store will remain open for up to 20 weeks while the adjacent existing Tesco supermarket in Kirkwall is demolished and replaced with a larger 25,000sqft scheme.  The interim store will then be broken down to its modular components and relocated to another Tesco site for use as either a permanent or another interim supermarket.
Commenting on the Orkney project, Stephen McEwan, Tesco Store Manager, said, "The principle of off-site construction works very well for Tesco, particularly on constrained sites and in locations with such challenging logistics as Orkney.  The store has the look and feel of a permanent store, and we have had very positive feedback from staff and customers since it opened."
"The modular solution has allowed us to reduce the cost of providing a temporary supermarket, because it will be relocated to another site when the new Orkney store has been completed.  The project went very well and involved an impressive team effort from everyone involved."
David Johnson, Director and General Manager of Yorkon, said, "As well as being our most northerly building project, this scheme was also one of our most challenging.  We had to work to a very tight manufacturing programme in order to meet the shipping schedule, and the site was highly constrained as the existing store remained open throughout construction."
"Built to permanent standards, the interim modular store ensures there is no compromise in the customer's shopping experience while an existing store is redeveloped."
The store, which has a retail sales area of 10,000sqft and back of house areas of 3,000sqft, is a new modular supermarket design that Yorkon has developed with Tesco.  It has now been used in a number of locations, including Workington following the Cumbria floods where the store was open and trading after just 13 days on site. 
The store design is almost three times the size of the Express convenience stores manufactured by Yorkon for Tesco, and has been engineered to minimise the number of internal columns for maximum clear spans.  Facilities include an in-store bakery, frozen food and chiller sections, office, store room, staff facilities, plant room, cleaner's area and bulk storage.
Yorkon has worked with Tesco for the past 10 years, delivering more than 170 projects, which include 150 Express convenience and petrol filling station stores, and is the UK's market leader in off-site construction solutions for the retail sector.
Got a story? Email news@theconstructionindex.co.uk