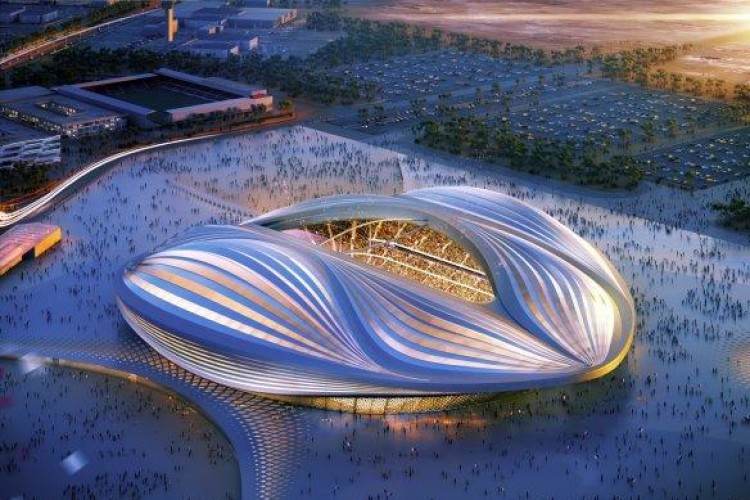 The design has been developed under the committee's guidance by Aecom in association with Zaha Hadid Architects.
Al Wakrah is the southern-most host city for the 2022 FIFA World Cup. It is located approximately 15km south of Doha and has served as a vital commercial port and a gateway to the capital throughout Qatar's history. Al Wakrah's tradition is reflected in the stadium design, which captures the essence of the traditional dhow, an Arabian pearl fishing boat.
The stadium will have a gross capacity of 40,000. The top-tiers will be modular, allowing the stadium's capacity to be lowered to 20,000.
Qatar 2022 Supreme Committee secretary general Hassan Al Thawadi said: "Today's announcement constitutes the first in an upcoming series of progress-related events and initiatives as we enter the early phase of delivering the promises we made to FIFA and the international football community during the bid. We are proud to reveal what we believe is a truly unique stadium design and surrounding precinct that will serve the population and act as a social hub for the community of Al Wakrah, and Qatar as a whole, during the 2022 FIFA World Cup and for the years to follow. The stadium reflects what our country stands for from a cultural perspective.  It is modern, futuristic and functional.  But importantly, it remains true to Qatari heritage with the design and materials inspired by the traditional dhow boat."
Al Wakrah is the first of six stadiums already in the latter stages of the design process. The committee has issued 10 major tenders to the market encompassing project and design managers and stadium-operation consultants.


In 2014, tenders will be issued for early works, enabling works and main contracts for five stadiums.  On Al Wakrah specifically, early works on the stadium site will begin in January, with the tender for the main contractor issued in the second quarter.  Stadium construction will begin in the fourth quarter.
All construction contracts for the stadium will be issued in line with the Qatar 2022 Supreme Committee's Workers' Charter & Standards – developed in consultation with international human rights organizations. This is designed to enforce best practice and cement the tournament as a catalyst to the improvement of workers' welfare within Qatar and the region.
Aecom chairman and chief executive officer John Dionisio said: "Aecom is pleased to play a part in the global launch for the Al Wakrah Stadium Project and congratulates the Qatar 2022 Supreme Committee on reaching this important milestone in its delivery programme. We believe the planning and design for the Al Wakrah Stadium and Precinct clearly establishes an international benchmark for sports venues in the region. We are delighted to be involved with the 2022 FIFA World Cup programme and to support the Qatar 2022 Supreme Committee in reaching its vision. This is an exciting time for Qatar, and our global team of forward-thinking sports experts is well equipped to take on the innovative challenges that a project of this calibre will demand."
Zaha Hadid added: "We are excited to be working on Al Wakrah Stadium. The design expresses its context, establishing a relationship with the city and its surrounding landscape."
Got a story? Email news@theconstructionindex.co.uk