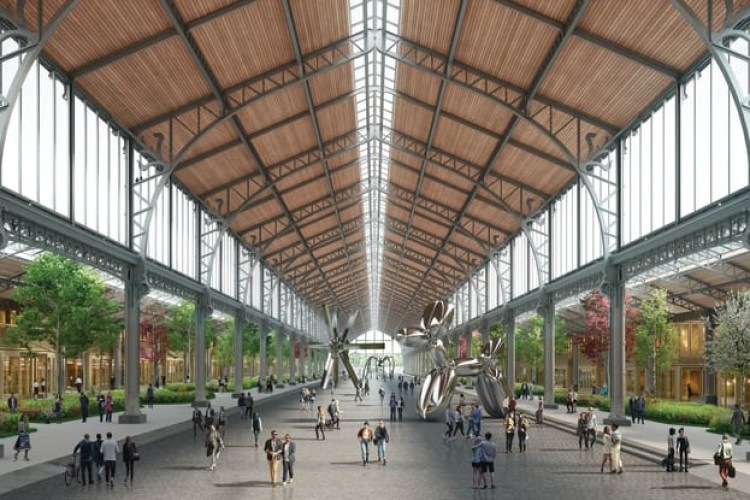 The station, which consists of seven interconnected historic train sheds in the heart of Brussels, is being redeveloped with businesses, offices, restaurants and event space.  
General contractor CFE Bouw Vlaanderen has awarded Züblin Timber the timber construction works
Gare Maritime is about 270m in length and 140m across. The highest point of the roofs for the three main sheds is 24 m high. Here Züblin Timber will build 12 four-storey all-timber buildings consisting of large ribbed slabs – of cross-laminated timber slabs on glued laminated timber ribs - on top of a supporting structure. In the centre of each building, there will be a large staircase and utility core of cross-laminated timber as reinforcement. In 10 months of construction, Züblin Timber will install 9,000m³ of wood, made up of 6,000m³ of cross-laminated timber (CLT) and 3,000m³ of glued laminated timber (GLT).


The contract covers both the BIM.5D-based design as well as the construction and assembly of the timber structure. The large amount of wood and the related logistics and organisation are challenging , said the company, as is the coordination of the design and build works in the tightly structured schedule.
"Thanks to the innovative BIM-based design and planning methods, well-coordinated interfaces and modern products, we can easily deal with the task at hand," said Martin Schimpf, project manager at ZÜBLIN Timber.
The project is described as a covered village in the middle of the city. As well as space for retail, restaurants, businesses and public events, there will be tree-lined avenues, parks and squares.
Got a story? Email news@theconstructionindex.co.uk